Shanghai snacks are popular for their delicate flavors, which differ from the sweeter dim sum in Guangdong and Hong Kong and the much spicier dishes in Sichuan and Chongqing.
The 10 most famous snacks in Shanghai are:
Pork ribs with fried New Year cake 排骨年糕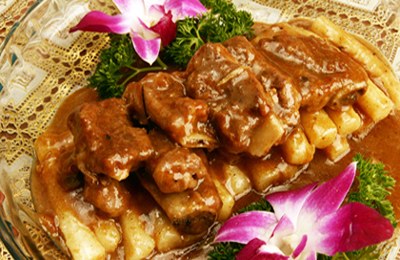 Pork ribs with fried New year cakes
The pork ribs with fried New Year cake is a specialty snack from Shanghai and has a history of over 50 years. Pork ribs are coated with flour, five-spicy powders and eggs, soaked with soy sauce, sugar, cooking wine, chopped spring onion and ginger, then wrapped with New Year cake strips. Lastly, it is deep fried until the surface becoming golden brown. The New Year cake is made of glutinous Songjiang rice flour after pounding and kneading. It tastes tender, sticky and has high nutritional value. The two famous snack restaurants in Shanghai serving this specialty are called Xiaochangzhou and Xiandelai.