Since evolving into a hurricane and blasting its way through the Caribbean and the U.S. East Coast, late-season tropical cyclone Sandy has claimed at least 113 lives. Considered to be the largest Atlantic hurricane in diameter on record, Sandy's impact in the United States has been felt in at least 22 states, leaving more than 5.6 million homes and businesses without power.
A hurricane, also known as a cyclone on the northern Indian Ocean and typhoon across the western Pacific, is one of the most devastating natural phenomena on earth. In killing thousands of lives and causing tremendous damage, this type of storm sows danger and panic. Here, as a simple reminder, China.org.cn presents to you the ten deadliest hurricanes since 1900.
Hurricane Ike (飓风艾克)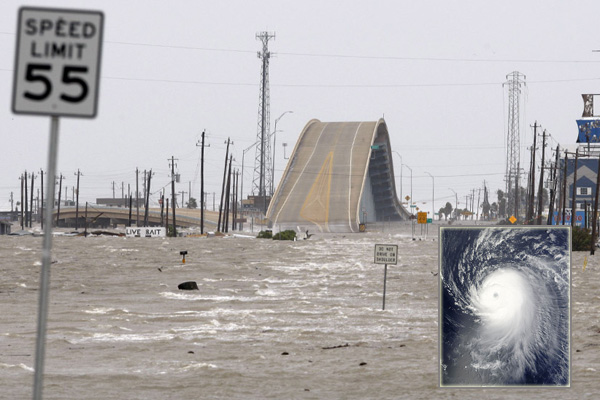 Hurricane Ike
Time: Sep.1 –14, 2008
Areas: Turks, Caicos, Bahamas, Haiti
Fatalities: 195
Damage: US$32 billion (2008 USD)
With damages totaling at US$32 billion, including US$24 billion in the U.S. and US$7.3 billion in Cuba, Hurricane Ike was the second-costliest hurricane ever to make landfall in the United States and the costliest one to ever hit Cuba. In the early hours of September 4, Ike became a Category 4 hurricane with maximum sustained winds of 145 mph (230 km/h).