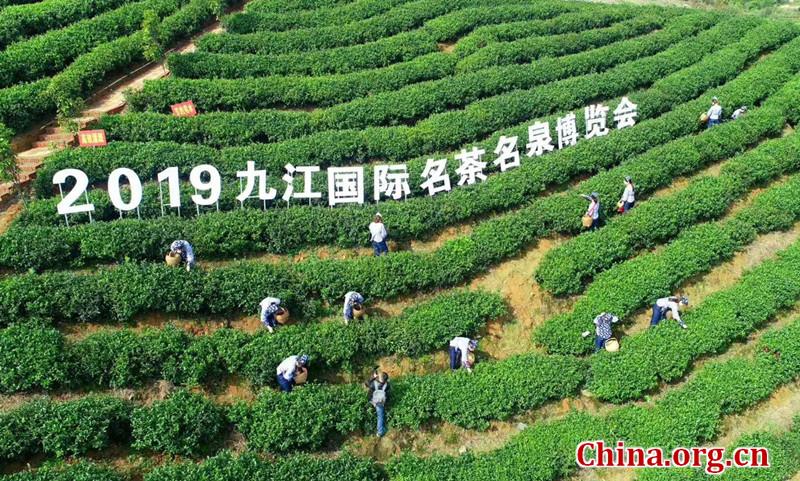 The 2019 Jiujiang International Famous Tea and Spring Expo will be held in Jiujiang, in eastern China's Jiangxi province, from May 29 to 31, with the aim to spread tea culture and boost the tea industry and tea tourism in the region.
More than 600 people from the tea industry will attend the expo, together with tea manufacturers and enterprises from Jiangxi. The expo will hold a cultural forum on tea and spring, a black tea development conference, a gala of tea appreciation to be attended by 10,000 people, and an investment and business matching workshop.
Jiujiang boasts a time-honored history of 2,200 years and lies in an advantageous location bordering the Yangtze River, China's longest river, to the north, Poyang Lake, the largest freshwater lake in the country, to the east, and the picturesque Mt. Lushan, a UNESCO world heritage site, to the south. Jiujiang has also world-famous springs like Gulian, Zhaoyin and Longchishui. In addition, Jiujiang is home to and has been a choice destination for many literary figures, including Tao Yuanming, Li Bai and Chairman Mao Zedong.
Jiujiang's cloudy, misty weather and unique geography attribute to its widely-acclaimed Lushan Yunwu Tea (cloud and mist) as well as Ninghong black tea, both of which have won tea prizes and earned a top reputation in China and abroad. The city has been one of the three largest tea markets in China, the other two being Fuzhou, in southeastern China's Fujian province, and Hankou, central China's Hubei province.
The expo will be co-hosted by the Jiujiang municipal people's government, the China International Tea Culture Institute, and the China Tea Science Society, and will be supported by the people's government of Jiangxi.