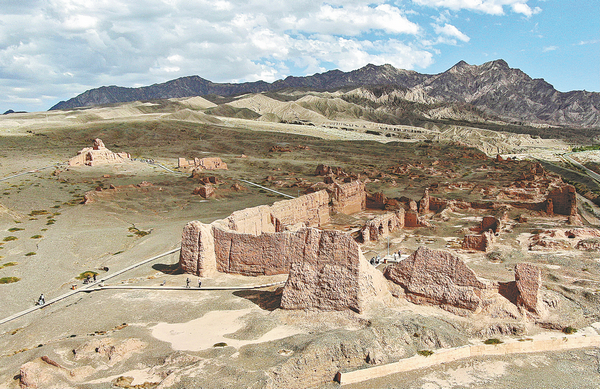 The Subash Buddhist Ruins stand like sandcastles washed over by the waves of entropy in the seas of sand and time.
They appear as nubs of mud-brick buildings in the dusty scrublands surrounding the Xinjiang Uygur autonomous region's Kucha city.
These hunks of rammed earth that jut from the gravel offer the few remaining visual hints of the once-flourishing administrative center of the ancient Chousi region.
Chousi translates as "crossroads "in the Uygur language, since the complex was located at a principal junction of the north-south and east-west Silk Road trade routes.
Today, these chunks of buildings and bulwarks stand crumbling at the intersection of space and time.
The 200,000-square-meter settlement not only hosted local nobility and over 30,000 monks at its peak during the Tang Dynasty (618-907) but also was a destination for merchant caravans and Buddhist pilgrims from neighboring civilizations.
Today, the UNESCO World Heritage Site, built between 220 and 420, continues to attract people from every corner of the globe, especially travelers and archaeologists.
The only things that live here now are tiny wild watermelons that local people brew into alcohol to treat rheumatism.