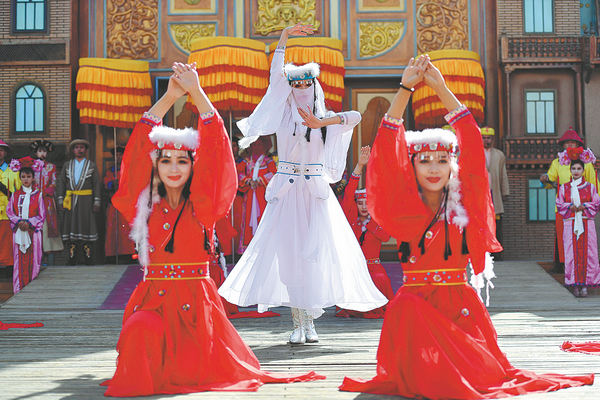 Qing Dynasty (1644-1911) concubine Xiangfei's (1734-88) legacy lives on at her gravesite, which has also become a cradle nurturing ancient culture's survival in modern times.
The final resting place of emperor Qianlong's favorite concubine has become a destination for travelers from near and far. They come to learn not only about this historical figure but also the contemporary practice of traditional folk arts.
The grounds house the mausoleum of 72 royals, spanning five generations of the Apaq Xoja royal family, built in 1640. The site also hosts contemporary buildings featuring the ornate Islamic architecture, including geometric tiles, pointed archways and domed roofs, endemic to Kashgar in the Xinjiang Uygur autonomous region.
Visitors enter the park through an imposing 9.5-meter-wide, 5-meter-high gate with two doors adorned with depictions of such auspicious local symbols as pomegranates, gourds, almonds, flowers and pumpkins.
Upon entering, they arrive at an equally grandiose outdoor stage, upon which dance performances reenact the ceremony in which Qianlong and Xiangfei came to officially share their lives.
The massive outdoor stage stands next to Xiangfei's home, where seven chambers and the courtyard display the customs that shaped her life before she joined the emperor's court.
The courtyard, which flutters with doves that perch on visitors who feed them, also hosts smaller-scale performances demonstrating ancient marital customs.
A female volunteer is selected from the audience to "marry" a local man.
The ceremony involves stilt walkers, dancers balancing stacks of bowls on their heads and such magic tricks as conjuring a flying dove from an empty box and extinguishing a flaming bowl with a plate, generating candies that are then tossed to the crowd.
At one point, the bride is wrapped in a rug and swung over flames.
Finally, the newlyweds retreat to the bridal chamber and, within a minute, emerge as new parents, cradling a doll before chuckling crowds, who make euphemistic wisecracks about speed.