Despite heavy rain, the first visitors screamed with happiness as Universal Beijing Resort opened its gates at midday on Monday.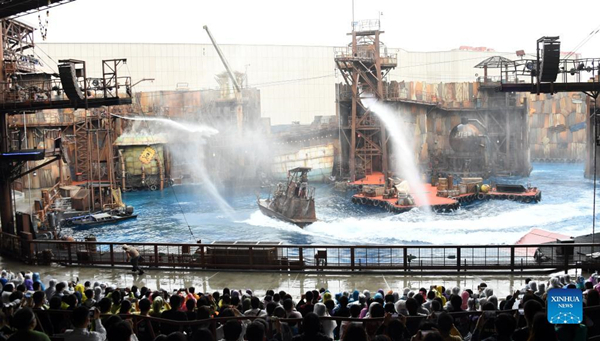 In the morning, before the tourists' visit, in an in-park theater, Universal Beijing Resort finally celebrated the monumental milestone - the grand opening of the theme park, Universal CityWalk Beijing, and two hotels after two decades since the project was first initiated.
"Universal Beijing Resort has been 20 years in the making and marks an important milestone for Universal Parks & Resorts, our partners and everyone associated with this project," said Tom Williams, chairman and CEO of Universal Parks & Resorts, calling the opening a dream "fulfilled."
Located in Beijing's Tongzhou District, the resort, covering 4 square km, the first of its kind in China, promises to welcome guests from China and abroad with blockbuster fun, bringing them into an extraordinary immersive world of film, with seven themed lands covering 37 rides and attractions, as well as 24 shows.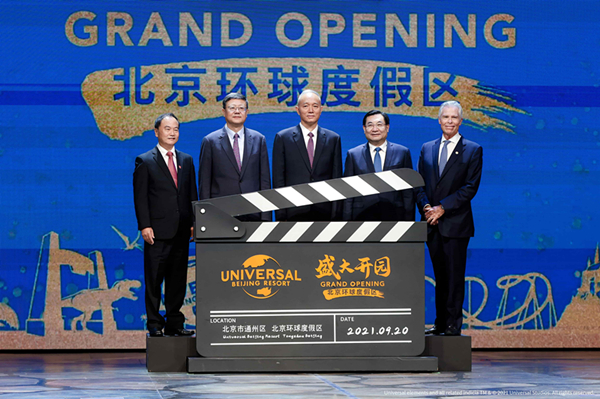 "I was amazed by this first major theme park built by a foreign developer in Beijing. To me, it's better than the Universal Studios in the U.S. and Singapore which I visited a number of times over the last 10 years," Jack Gao, CEO of Smart Cinema, told China.org.cn. He added that the China exclusive attraction "Kung Fu Panda Journey of the Dragon Warrior" was very impressive.
Xiao Yang, a movie fan who has been to all five Universal theme parks, loved Decepticoaster the most and said it was the one and only in the world. "I found the Beijing park to be very authentic and detailed. Personally, Beijing ranks second only to Universal Orlando Resort in my heart, due to Orlando's more thrilling rides as well as tours to studios and sets that show insights into how a movie is made."
However, Universal Beijing Resort's planning and equipment are more advanced than other Universal parks, especially in aspects of human face recognition and mobile phone applications, according to Dio, a fan and hospitality and recreation expert. He noted that the park's infrastructure is friendly to disabled people while there is plenty of first aid equipment, as well as an array of restaurant options.
And, to consider visitors of broader ages and interests, there are not so many roller coaster rides, he pointed out. Due to Beijing's local weather and climate, more than 70% rides and attractions are indoors.
But to tone down thrilling rides is not satisfying for excitement seekers. Dave, a visitor, said he loved the Jurassic World Adventure but there were not enough such rides in the park. He believed the unique Kung Fu Panda themed land was a great place to take photos, but the rides are more for underage children.
Due to COVID-19 travel restrictions, overseas tourists may not join the feast any time soon. However, tickets for many dates were quickly sold out due to high domestic demand.
The grand opening ceremony was full of special moments, such as Steven Spielberg and Zhang Yimou sending video greetings, and the Universal theme song, "This is Universal," performed by Tan Weiwei, evoking the remarkable Universal experience about to unfold in the blockbuster world beyond the gates.
Representing a major investor in Universal Beijing Resort, Song Yu, chairman of Beijing Tourism Group said in the process of cultural integration of world cultures, the establishment and opening of Universal Beijing Resort has brought a different charm to Beijing, "I believe that Universal Beijing Resort is set to have a bright and promising future and champion the expansion of the tourism industry in the capital city as a beacon of entertainment and service."