Xinjiang Uygur Autonomous Region will host the 15th Winter Tourism Trade Fair and the 2021 Northwest China Tourism Marketing Conference on Nov. 27 in Fuyun county, Altay prefecture, according to a press conference on Nov. 22.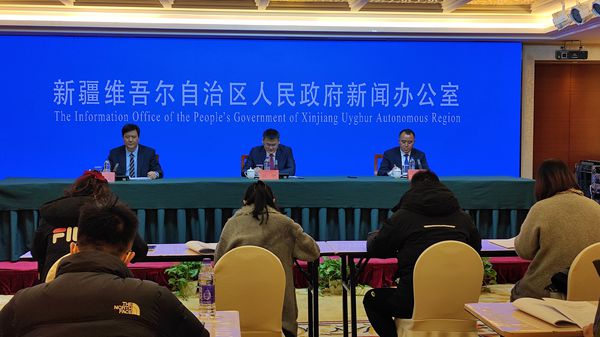 The events would host a series of activities, such as selling licensed Beijing 2022 Olympic Games products. In addition, the Big Data Report on China's Winter Tourism 2020-2021 will be released. The events will feature signing agreements with brands, establishing a new tourism alliance, and extensive publicity and promotion.
The events will also feature modern skiing, ancient fur skiing, new ski clothing releases, and other snow sports competitions to showcase Xinjiang's rich winter tourism resources and profound skiing history and culture.
The events aim to set up a trading platform in Xinjiang and northwest China for winter cultural tourism products and projects by integrating culture and tourism, focusing on exhibitions and trade.
The main venue will host various activities, including shared skiing, ice hockey performances, a folk ice carnival, and mixed snow and ice competitions. At the same time, a slew of activities will be hosted featuring snow and ice tourism, winter sports, folk experience events, and intangible cultural heritage.
The Xinjiang Winter Tourism Trade Fair and the Northwest China Tourism Marketing Conference are the primary brand and distinctive tourism programs of a new initiative called "Silk Road, Magical Northwest." China's northwest provinces and regions jointly promote the initiative.
In addition to its traditional forms of activities, the events will host a live-streaming platform for the first time. Online celebrities and product enterprises have been invited to carry out live e-commerce, and a 12-hour live broadcasting activity called "Magical Northwest, Most Beautiful New Silk Road" will be held.
The events respond to the country's call to engage 300 million people with sport on snow and ice and support the upcoming 2022 World Winter Sports (Beijing) Expo. Xinjiang authorities are working hard to make the region an idyllic winter retreat in northwest China and one of the world's best tourist destinations.