On June 25, the Kanas Culture and Tourism Week, the 20th Aqin Aytis Festival, and the Second Traditional Sports Meeting of Ethnic Minorities were held on the Argonne Ghet grassland in Burqin county, Altay prefecture, Xinjiang Uygur autonomous region.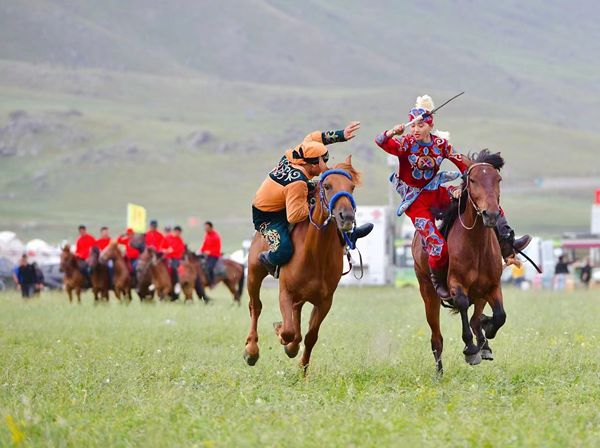 A vast array of events includes performances of various folk arts and intangible cultural heritage, showcasing the Altay region's rich and colorful humanistic characteristics and cultural roots from the perspective of culture and art.
Over the next 10 days, a wide range of activities will be launched there, such as an evening party titled "Fairy tales time, charming night," a camping fair, a summer concert, a square-dancing invitational contest, and exhibition and commodities fairs under the theme of "the Altay Gift."
According to the organizer, tourists can enjoy the splendid scenery of Kanas, watch the performances of the intangible cultural heritage, taste local flavor snacks, and also have a close experience of the traditional sports of ethnic minorities full of nomadic features. They can camp under the beautiful scenery, enjoy the unique view and listen to music, and have an immersive cultural tourism experience.
In recent years, Altay has actively promoted the in-depth integration of culture and tourism, spared no effort to build a high-quality route of a thousand-mile-long gallery, accelerated the development of full-time and all-round tourism, and continued to increase the investment in tourism projects. In the 2021-2022 winter season, local tourism continued to be booming. This summer, its tourism is returning to normal. As of June, Altay has seen 11.33 million tourists and its tourism revenue has reached 9.392 billion yuan.