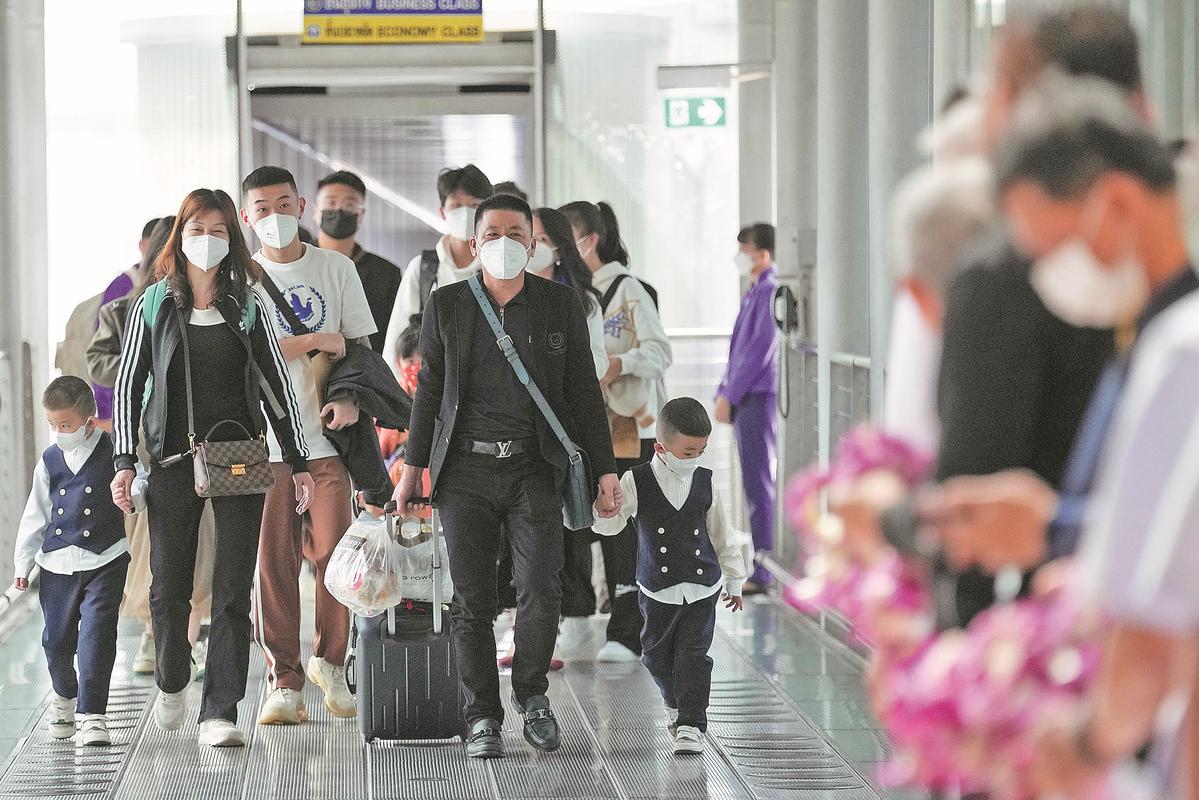 With the resumption of outbound travel in China after the country downgraded its COVID-19 management measures from Category A to Category B, Chinese tourists are embarking on trips overseas — and destinations are thrilled at the prospect of welcoming them back.

"Welcome to Thailand!" Thai Deputy Prime Minister Anutin Charnvirakul and other senior officials said on Monday to the first group of Chinese tourists arriving at Thailand's Suvarnabhumi Airport in Bangkok. The 269 passengers from Xiamen, East China's Fujian province, were greeted with flowers and gift bags.
Pakkanan Winijchai, an official with the Beijing office of the Tourism Authority of Thailand, told Beijing Daily that after the announcement over border-crossings, the Thai tourism sector greeted the news with cheers.
She said she expects to see an explosive growth in the number of Chinese tourists visiting Thailand.
Thailand's tourism authority forecasts some 300,000 Chinese tourists to arrive in the first quarter. Around 5 million Chinese tourists are expected to visit Thailand in 2023.
Emanuel Lehner-Telic, head of markets Asia-Pacific at the Austrian National Tourist Office, told Beijing Daily that they were having discussions with the federal provinces in Austria on welcoming Chinese tourists back.
After the 2022 Beijing Winter Olympics, more Chinese are beginning to pay attention to Austrian winter tourism offerings, he said.
Innsbruck has hosted the Winter Olympics twice and Austria is a paradise for winter sports — accounting for more than 50 percent of the European market. Austria welcomes Chinese tourists to spend their winter holidays in Austria, he added.
The French embassy in China and the tourism agencies of countries including Canada, Australia, New Zealand, the United Kingdom, Israel and Norway posted in December welcome messages for Chinese tourists on Chinese social media.
A Chinese tourist shared his "silky smooth" experience traveling from Beijing to Paris and San Francisco. "I didn't encounter any obstacles," he told Beijing Daily. He embarked on this "long-awaited" trip in December, said the newspaper.
Although China had just resumed international travel, Zhang saw many Putonghua-speaking tourists around Paris, including in a long queue at a Louis Vuitton store.
"Many of those working in the tourism sector (of France) are actually Chinese," Zhang told Beijing Daily. "In the past three years, they had very poor business. Some of them even closed their companies and took up other professions.
"The salespeople at LV were especially warm toward Chinese tourists … They would receive them patiently and refer them to stores with stocks if they didn't have what they wanted in stock," Zhang said.
Before COVID-19, China was one of the world's biggest outbound tourism contributors. In 2019, the number of outbound trips by Chinese citizens stood at 169 million. More than 2 million out of those trips were to France, bringing 3.5 billion euros ($3.78 billion) in tourism revenue to the country, Beijing Daily reported.
"The resumption of international travel in China is a major event in the process of global tourism recovery and will give a strong boost to the full recovery of tourism-related industries in the receiving countries," Cheng Chaogong, a senior researcher with Tongcheng Travel, told chinanews.com.
Cheng said China had been an important source for inbound tourism to numerous countries. Due to COVID-19, the volume of China's outbound air passengers had been in an abnormal state in 2022. The monthly figure was less than 5 percent of that in 2019, according to the chinanews.com report.
"To a certain extent, the return of Chinese holidaymakers is the 'last puzzle piece' for the full recovery of global tourism," Cheng added.
Zheng Yue, deputy general manager of the North China Marketing Center at China Southern Airlines, told chinanews.com:"With the resumption of more international flights, the return of Chinese tourists is expected to drive the recovery of international activities including trade and cultural exchanges, and to pump energy into the world economy and global tourism."