Shanghai Disney Resort will introduce new and iconic offerings for the spring season and beyond as the place begins to regain vitality and momentum for the future, following three years marred by the COVID-19 pandemic.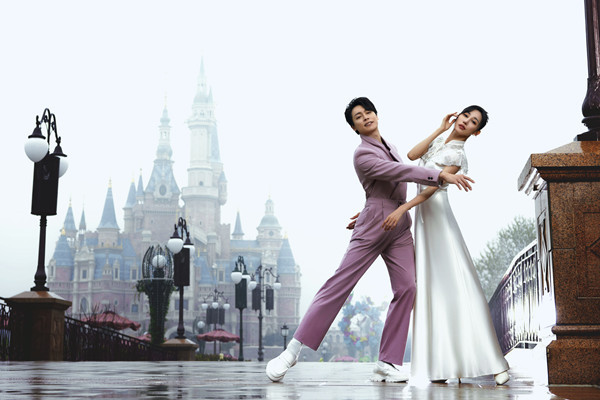 Zhu Jiejing and Wang Jiajun, a renowned dance artist duo and the Shanghai Dance Theatre Chief Dancers with Honor and Glory, graced guests with an elegant performance during their surprise appearance on April 30, 2023. Collaborating with Disney dancers, their routine made for an exclusive moment for visitors, imbued with the magic of spring. [Photo courtesy of Shanghai Disney Resort]

"We have been thrilled to welcome our guests back from near and far to experience all that we have to offer," said Joe Schott, president and general manager of Shanghai Disney Resort, at a press event held at Disneyland on Thursday. "Families, friends, and guests of all ages are returning to the resort and sharing the joy and magic. Seeing the smiles on their faces and hearing laughter fill the air remind us of why we do what we do."
This year, Walt Disney Company also prepares to mark 100 years of storytelling excellence and is set to provide even more magical moments, according to Schott. "Disney 100 is a celebration of our journey together. We can't wait to recognize our company's rich history and provide our guests and fans with plenty of opportunities to reconnect with their Disney memories at this resort throughout the year."
With spring in full swing, the resort is planning a series of events and activities to entice visitors to the park in the coming months, though developments of their high-profile Zootopia-themed land remain a secret. Events will range from the reintroduction of classic character meet-and-greets to quintessential Disney experiences. These and other offerings aim to keep guests of all ages returning to the resort for repeat visits.
During an accompanying presentation, Andrew Bolstein, the resort's senior vice president of operations, and Frances Li, the resort's vice president of external communications, walked press members and invited guests through a slew of themed highlights of what the near future holds for the park. They included the return of the Disney Inspiration Run in autumn, the first time since 2019, as well as its warm-up event, the 2023 Spring Family Run, in May. There will also be birthday celebrations for iconic characters, including Chip 'n' Dale in April and Donald Duck in June.
This spring, Disney enthusiasts can also rejoice as the Bibbidi Bobbidi Boutique reopens inside the Enchanted Storybook Castle, a guest favorite across Disney parks worldwide. In the boutique, young visitors can indulge in a royal makeover complete with dresses, costumes, and accessories fit for a prince or princess, along with a professional photoshoot to capture the enchanting moment.
Disneyland visitors can also fully immerse themselves in the Marvel universe throughout May via a variety of themed offerings in the lead-up to the highly anticipated global premiere of "Guardians of the Galaxy Vol. 3," which will be released in China and worldwide on May 5.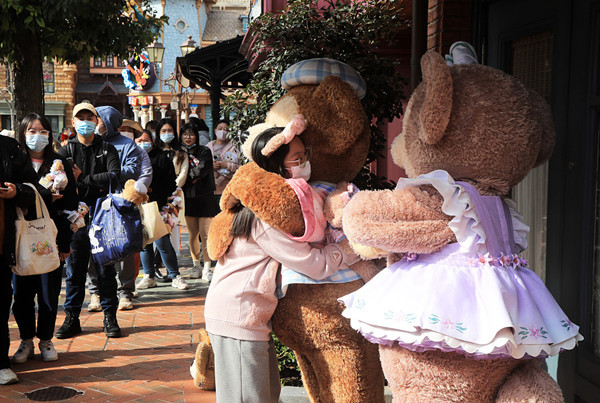 A photo taken on March 7, 2023, shows a visitor being embraced by Disney characters at Shanghai Disneyland. [Photo courtesy of VCG]
Meet and greets between visitors and their favorite characters are also back at the resort as part of its iconic live entertainment. Visitors can once again closely interact with iconic Disney characters through close-up photos, handshakes, hugs, and even autographs.
"I was really deeply touched to see our guests once again hug, shake hands, and pose with their favorite Disney characters in the park. The return of these traditional interactions is truly heartwarming and emotional," said Bolstein.
To help enterprises affected by the epidemic gradually offset the negative impacts, improve consumer expectations, and boost the confidence of global investors, China has introduced a series of stimulus packages. Among the companies hit hardest by the pandemic, Shanghai Disney Resort not only served as a wind vane for economic losses during the pandemic but also provided a model for how to deal with it.
As if that wasn't enough, Disney fans have even more exciting news to look forward to: the arrival of a new character, Red Panda Mei. The Chinese-Canadian protagonist of Disney and Pixar's 2022 animated feature film "Turning Red," Mei made her global debut in Shanghai in March. While the fluffy red panda currently only performs in Disneyland, she will soon join characters for greeting experiences. Additionally, Oswald the Lucky Rabbit, one of the first characters created by Walt Disney and his team, will make his debut at the resort on April 10. In June, the resort will expand its offerings with a whole host of Pixar characters for guests to meet, including Sulley from "Monsters, Inc.," Lotso from "Toy Story 3," Joy and Sadness from "Inside Out," and many more.
Li added that, as part of the Disney 100 celebration, a total of 100 classic Disney characters will be appearing in the parade from March to June. Over the past three months, more than 60 characters have already made appearances, including over 20 rarer characters, with more to come in the months ahead.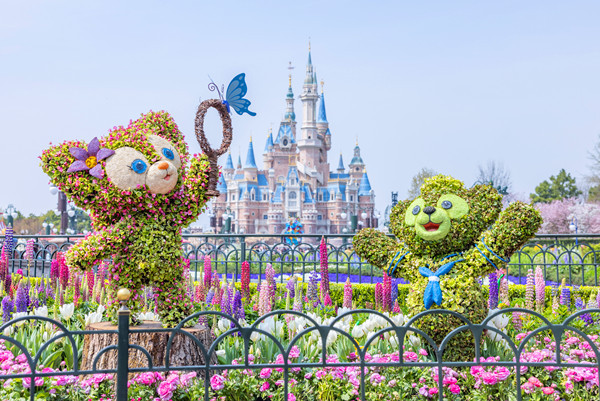 Spring is in full bloom at Shanghai Disney Resort, where guests of all ages can enjoy the beautiful blossoms and character-shaped floral sculptures that are unique to the resort. The horticulture team has transformed Shanghai Disneyland, Disneytown, and Wishing Star Park into a floral fantasy with over 90 different types of flowers. [Photo courtesy of Shanghai Disney Resort]
Finally, besides providing fun and excitement, Shanghai Disney Resort will host a series of engaging and educational activities during Earth Month to enhance the guest experience and promote environmental awareness. These activities aim to inspire both Disneyland visitors and cast members to take better care of our planet. One of the highlights of this year's Earth Month celebrations is the 42nd Shanghai Bird-Loving Week, which will be co-hosted for the first time ever at the resort in partnership with the Shanghai Forestry Bureau and Shanghai Wildlife Conservation Association. Earlier this year, Shanghai Disney Resort was awarded the LEED Platinum certification under LEED v4.1 for Communities, the highest LEED certification for environmental best practices.