The Envision 2023 Global Conference was held Monday in Shanghai by Trip.com Group, a leading global travel service provider, inviting professionals in the tourism industry to share insights on latest trends in tourism.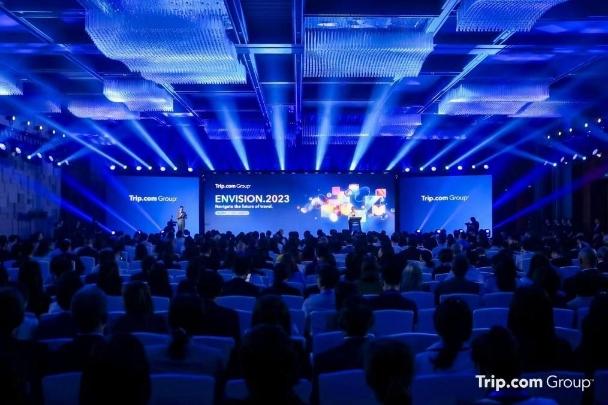 The Envision 2023 Global Conference is held on Sept. 11, 2023, in Shanghai by Trip.com Group. [Photo courtesy of Trip.com Group]
Jane Sun, CEO of Trip.com Group, summarized the company's recent success in her keynote speech, highlighting a 180% year-on-year revenue growth in the second quarter, which also represented a 29% increase from the pre-pandemic Q2 revenue in 2019.
The recovery has coincided with loosening of COVID-19 restrictions on travel this year. In August, China announced a third round of resumption of outbound group tour services to 78 countries and regions, according to the Ministry of Culture and Tourism, which has given a strong boost to outbound travel.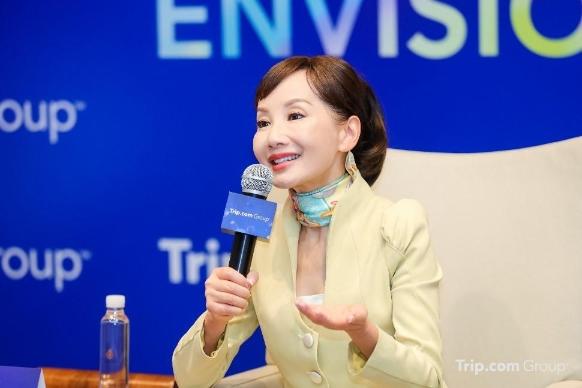 Jane Sun, CEO of Trip.com Group, answers reporters' questions at the Envision 2023 Global Conference held in Shanghai on Sept. 11, 2023. [Photo courtesy of Trip.com Group]

The Trip.com Group CEO said the company saw a robust recovery with the volume of domestic hotel booking in the second quarter this year exceeding the 2019 level by 60%, and that she anticipates more people to travel internationally with lifted flight restrictions and more approved visa applications.
Sun proposed four ways to boost inbound tourism in China: providing more convenient access to visa application through online services or upon visitors' arrival, access to digital payment service for foreign card users, improving multilingual signs at travel hubs, and allowing more hotels to receive foreign guests.
As the Mid-Autumn Festival and the National Day holidays approach, Trip.com Group has seen a surge in web searches for outbound trips, which indicates people's willingness to travel abroad and long distances, Sun said. She noted that the company has leveraged the latest AI technologies to improve services, and the company's AI travel assistant Trip Genie now serves travelers in more than 200 countries and regions, Sun said.