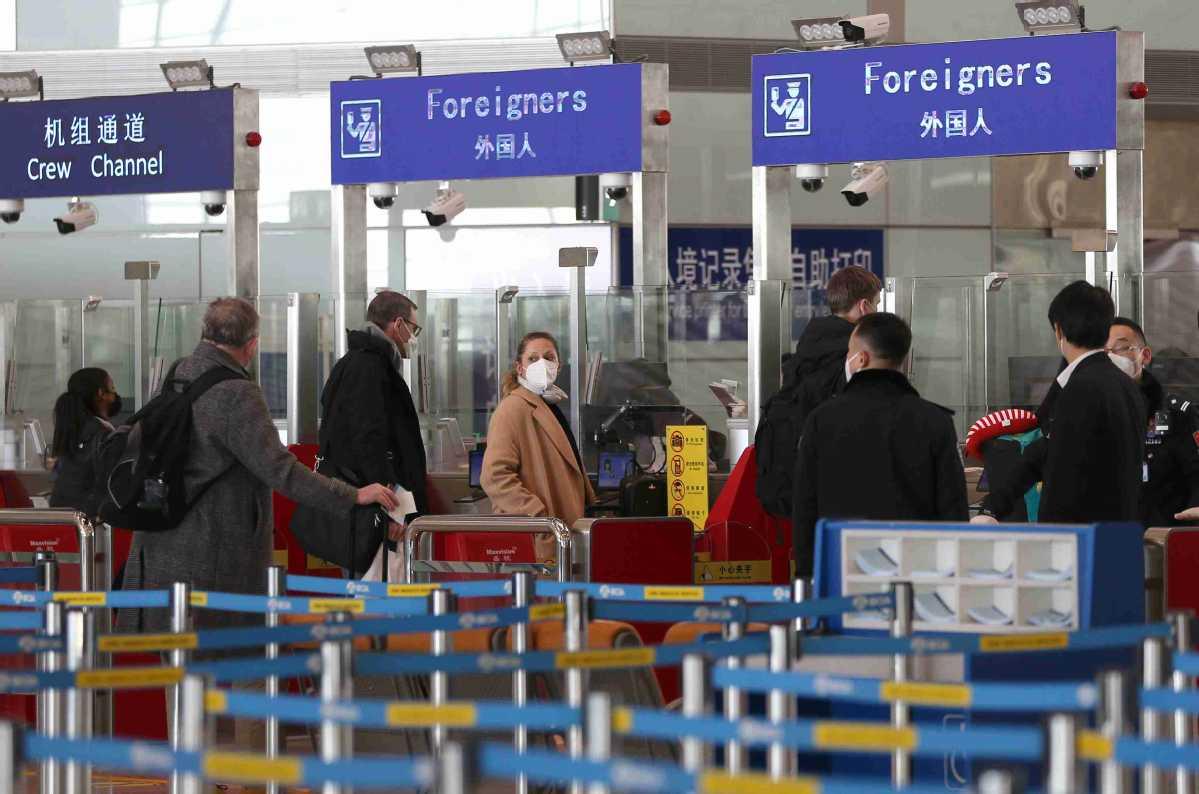 Travelers wait to pass through immigration checkpoints in Beijing Capital International Airport in this file photo of Jan 8, 2023. [Photo by Zou Hong/China Daily]
China will improve management and services for international travelers, including streamlining visa procedures and increasing international flights, in a move to boost its tourism market.
The General Office of the State Council released a document ahead of National Day to facilitate the high-quality development of the sector, which is expected to see large growth during the holiday.
It said China will resume and increase international flights, especially with neighboring countries and those that are the main sources of visitors.
The Civil Aviation Administration of China will support Chinese and foreign airlines to invest in more capacity to meet people's needs, according to a recent document jointly issued by over 10 departments.
Changes include resuming the application of bilateral air services agreements with 125 countries that have signed air transportation agreements with China, except the United States, Canada and France, authorities said.
The number of international regular passenger flights from Sept 18 to 24 was 3,849 round trips, nearly eight times that of the week before China downgraded its management of COVID-19 from a Class A to a Class B disease on Jan 8, and about 50.5 percent of that before the epidemic, data showed.
The number of flights to 16 countries, including the United Kingdom, Italy and the Maldives, exceeded the pre-epidemic level, it showed.
The document also stipulated measures to optimize visa and customs clearance policies, restore and expand visa-free policies, and provide convenient customs clearance for international travelers of cruises and self-driving tours.
A total of 97 port visa authorities can handle group tourist visas for foreign tour groups organized by domestic travel agencies. The 72-hour and 144-hour visa-free transit policies have been implemented for people from 53 countries, according to authorities.
China has implemented the 15-day visa-free entry policy for cruise ships in Shanghai, visa-free entry for 59 countries in Hainan province, and visa-free entry for tourist groups from 10 ASEAN countries in Guilin of the Guangxi Zhuang autonomous region.
Foreigners applying for entry from the Hong Kong and Macao special administrative regions can enjoy 144-hour visa-free entry to the Pearl River Delta region and Shantou, Guangdong province.
In response to the surge in visa applications, Chinese embassies and consulates abroad have extended working hours and increased the number of appointments, authorities said.
Services in payment, accommodations, ticket booking, scenic tours and foreign currency exchange will be made more convenient, the document said.
According to a report on China's tourism market issued by the World Tourism Alliance, inbound visits rebounded to 18 million people in the first half of this year, recovering to 12 percent of the same period in 2019, China Tourism News reported.