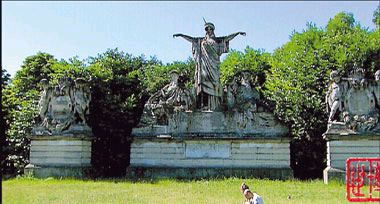 The relic of 1855 Paris World Expo. 
A documentary series dedicated to World Expo 2010 Shanghai is being aired nightly on the News Channel through next Monday, marking the 500-day countdown to the world's fair.
"A Long Dream About World Expo" features six 45-minute episodes documenting the 157-year history of World Expo and its influence on human civilization and economic development. It views the world's fair from different angles.
It began last night and is shown at 8:40pm. Preparation of an English-language version is under way.
Yesterday was the 500th day to the Shanghai Expo. The six-month world's fair, opening on May 1, 2010, is themed "Better City, Better Life."
The documentary series is a collaboration between the Bureau of Shanghai World Expo Coordination and the Shanghai Media Group's News Center.
It begins with a "miraculous prophecy" by novelist Lu Shi'e of the Qing Dynasty (1644-1911). In 1910, Lu published his "dream" about the nation in a fantasy novel "The New China."
He predicted that one day the World Expo would be held in Shanghai. He imagined a bridge would connect Pudong and Puxi, and thousands of people could travel by "underground railway."
"The writer's dream now comes true, which becomes a major plot line of our documentary," says Shi Zhe, a director of the documentary.
The series also depicts the city's all-around preparations for the Expo.
The documentary crew spent a year in production. The team visited 200 celebrities and scholars in sociology, architecture, economy and history from 32 cities around the world.
Many rare visual sequences about the Expo origins and history are broadcast on local TV for the first time. They include images of London's Crystal Palace, where the first World Expo was held in 1851. The breathtaking glass and iron structure was destroyed by a fire in 1936.
The series also shows one of the most popular exhibits at the 1939 New York World Expo, the Time Capsule that was buried at the Westinghouse Pavilion. It was intended to be "a record of 20th-century civilization, to endure for 5,000 years."
Little-known stories are told. One is about American author and educator Helen Keller, who was sightless and without hearing from the age of 19 months. Keller was the first visitor allowed to touch all the exhibits of the World Expo. After decades, she recorded her memories in her essay "Three Days to See." An English-language version of the documentary will soon be aired on International Channel Shanghai and on channels outside China.
(Shanghai Daily December 18, 2008)