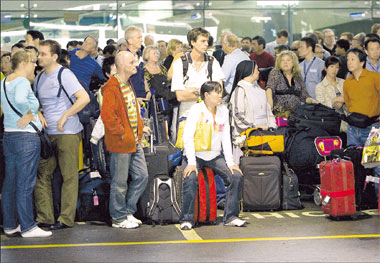 Frustrated tourists wait for transport yesterday at Thailand's main airport in Bangkok. Thousands of travelers were stranded, including about 400 from Shanghai, on Tuesday night when anti-government protesters swarmed the terminal, causing the airport to shut down. The protesters tightened their grip yesterday, triggering speculation of military intervention.
At least 400 tourists from Shanghai were stranded and all local fights to Bangkok were canceled yesterday after Thailand's main airport was shut down by anti-government protesters.
Despite reports of explosions during the storming of the Suvarnabhumi Airport on Tuesday night, the Shanghai travelers were reported to be uninjured, the Shanghai Tourism Administrative Commission said yesterday.
"We are still calculating the number of tourists from Shanghai," said Yang Jing, a commission official. "We have urged travel agencies to arrange for the tourists' accommodation and to ensure their safety until they come back to the city."
The commission warned individual travelers to refrain from visiting Thailand until order is restored and urged travel agencies to cancel or postpone tours to the Southeast Asian nation for the time being.
Air carriers last night were awaiting further word on when travel might resume. China Eastern Airlines, which operates two daily flights between Shanghai and Bangkok, said today's flights are fully booked, but it didn't know whether they would depart on time.
Shanghai Airlines has suspended ticket sales for the route.
The Shanghai China International Travel Service Co Ltd said a group of 21 clients was stranded in Bangkok.
"They stayed in a hotel and will return to Shanghai as soon as the airport reopens," said Yu Weihua, the company's general manager.
The Shanghai Jinjiang International Travel Service Co Ltd said two of its groups were affected by the turmoil.
"One group set out on Tuesday and flew straight back to the city without landing when the airport was closed," Dong Ming, Jinjiang's general manager, said yesterday. "Another group was expected to return tomorrow, but we don't know whether it can get back on time."
The Thai tourism market has been slack since September due to the political unrest, local agencies reported. In September, tourists were stranded on Phuket Island because anti-government protesters occupied three airports in southern Thailand.
(Shanghai Daily November 27, 2008)