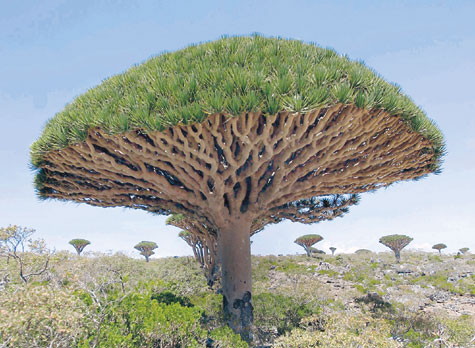 Dragon's Blood tree, prized for its red medicinal sap, is the most striking of 900 plant species on the Socotra islands in the Arabian Sea, 380km south of mainland Yemen.
Evolution has run riot on Yemen's windy isles of Socotra, whose dizzying cliffs, jagged peaks and exotic plants entice the imagination to do the same.
Here be dragons, or at least Dragon's Blood trees, prized for their red medicinal sap. Fearsome gales blow beaches up hillsides. People speak an obscure language older than Arabic.
The ancients cherished Socotra as a source of frankincense, myrhh and aloe, and until just a few years ago these islands off the Horn of Africa were all but cut off from the modern world.
Yemen is now asking UNESCO to recognize its remote Arabian Sea archipelago, with its spectacular green mountains and white beaches, as a world natural heritage site for its biodiversity and natural beauty. The UN agency is to decide in early July.
Its long isolation eroded, Socotra now faces the challenge of how to conserve its natural treasures while carefully opening up to tourism and improving life for its 50,000 people, many of whom still subsist on fish, dates and goats in a harsh climate.
"The islanders aspire for what other people have," Yemen's Environment Minister Abdul-Rahman al-Iryani told Reuters.
"In the past they didn't know of anything except what they had. They thought the whole world was like theirs.
"The pressure is now very strong. Socio-economic change has been very fast."
In Irsal, on the northeastern tip of Socotra, deputy village headman Matar Abdullah recalled bygone times when he used to catch sharks for a living with lines from a wooden rowing boat.
"Now we have motor boats, but the sharks have gone far out to sea. There are too many fishermen, with big ships from (the Yemeni mainland ports of) Mukalla and Hodeida, or Pakistan," said the 45-year-old with gold teeth and grey hair.
Abdullah said the road being built between Irsal and the island capital, Hadibo, had made it easier for the 400 villagers to make occasional trips to buy food or get medical help. They also appreciated their new school and clinic, but needed jobs.
Conservationists trying to preserve Socotra, which rivals the Galapagos and Mauritius for endemic plant species, realize they cannot ignore the material interests of the islanders.
But they challenge government decisions that have endowed Socotra with Yemen's longest airport runway, roads as broad as some mainland highways, and schools and hospitals built with little thought for how to staff, equip and maintain them.
"The problem is you are getting roads up to eight meters wide in areas where there are hardly any communities," said Paul Scholte, a United Nations expert who works as chief technical adviser to the Socotra Conservation and Development Program (SCDP).
"Irsal has approximately 400 people and four or five cars. The road leading there ... is the same width as the one between Sanaa, the capital of Yemen, and Hodeida, the main port."