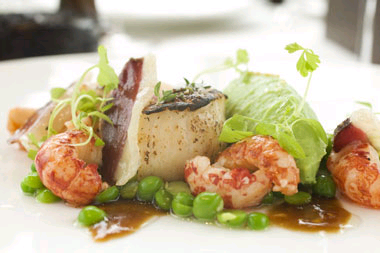 Scallop with peas, duck ham and crayfish is one of the chef's recommendations at Jing'An Restaurant.
On the second floor of the newly opened luxury hotel adjacent to the Jing'an Park, Jing'An Restaurant opens its doors at The PuLi Hotel and Spa this August.
The 120-seat restaurant features seasonal cuisine focusing on the freshness and combination of its ingredients, offering guests a dining experience of flavors with the expert marrying of taste and textures.
Dane Clouston is the chef behind Jing'An Restaurant. Committed to developing his knowledge of contemporary cuisine and to further refine his culinary skills through extensive travel around Asia, the New Zealander is a pioneer in modern style and takes on classics with a twist.
"My approach toward cuisine is to excite one's mind and pique curiosity. I have used a combination of local and global ingredients and influences to create a series of surprises for the palate, which I hope will bring enjoyment to every guest at Jing'An," says Clouston.
The restaurant's menu illustrates some of the chef's newly created dishes, such as chilled Gazpacho Soup with tapas, black olive and smoked anchovy using layers of flavors and home-made tapas, hand-chopped beef and duck yolk ravioli, as well as Japanese scallops with pea mousse, house-cured duck ham and local freshwater crayfish.
Modular element
Clouston's other signature dishes include black ravioli with crab and butterscotch, lamb saddle and lamb filo, chickpeas, spices and pomegranate and roasted coral trout fillet, salt cod brandade, fennel and clams.
The modular element of the menu invites guests to explore new tastes and textures through their personal selection of ingredients and cooking methods to create their own tailor-made meal.
Healthy home-cooked breakfast selections will be the highlight every morning. This includes a Western menu with selection of Asian favorites, complemented by an extensive bakery selection handcrafted in collaboration with German baker Ralph Gottschalk.
Lunch at Jing'An will be a casual affair of classics and unpretentious bistro fare with the chef's own twist. Classic home comforts from 1970s-style prawn cocktail to Clouston's take on traditional fish and chips add up to a light and delicious mid-day meal.
To accommodate time-strapped businessman, the restaurant will launch an Express Business Lunch, offering two and three-course set lunches at 188 yuan (US$27.6) and 220 yuan.
Interiors of Jing'An are separated into three distinctive areas - a formal restaurant, a central library and a bistro with lounge area.
Materials and decorative pieces selected for the restaurant work in tandem with The PuLi's overall design concept of East and West, old and new.
In addition, the 32-metre Long Bar offers one of Shanghai's longest vintage champagne and wine-by-the-glass selections, featuring wines from France, Italy and Spain, to Australia, United States and South Africa.
Address: 1 Changde Rd
Tel: 2216-6988
(Shanghai Daily August 13, 2009)