By Catherine Wood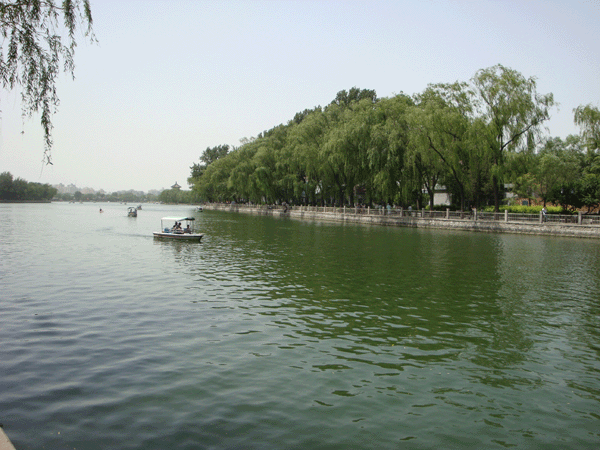 [China.org.cn]

◇ Why is Houhai Lake number 8 on the list?
Houhai Lake is a friendly escape for all people from the hustle bustle of big city life, even if for a couple of hours. Houhai seems to be a veritable well-known secret as it can sometimes be hard to find, it is tucked in behind the alley ways and busy streets of the main city. When you finally come across it, Houhai's culture and vibe reveal itself in a way that makes the illusive hunt worthwhile. The lake is surrounded by shops, bars, restaurants and lots of culture. Also, past the first row of bars are some of Beijing disappearing hutongs. Houhai Lake is a great place to enjoy nature, read a book, or just "get lost" in Beijing.
It is revered for its worldly culture, and all over international attitude. Although the vibe is international, the demographic of goers is still very domestic.
◇ Things to do around Houhai:
Houhai is generally revered for its nightlife in Beijing, but I find this a wonderful place to go at all hours of the day, especially the afternoon. The colors, sights, and sounds of Houhai blend together in a romantic intoxication that whisks away visitors and lets them forget the stresses from outside. Strolling around the lake in its entirety can take quite a long time, (maybe like 30 minutes to an hour), but there is no shortage in things to see and experience.
As a whole, the lake is very Westernized and chic, fancy restaurants line one side of the lake and are draped in luxurious fabrics. As visitors make their way around the lake, several vendors selling colorful lanterns or other traditional Chinese knick-nacks line the streets. The trees that encircle Houhai bring an organic flavor that is so welcomed but hardly found in a big city of concrete and accompany you on your afternoon stroll. Through the warm breeze the sounds of laughter or instruments will eventually catch your ears; you may catch a drum circle or erhu on the wind. This seems to be a place filled with love and culture and like so many places on this top 10 list, it is more about the atmosphere and the people who give the location pizzazz than the actual place itself.
One of the more colorful things visitors will encounter on their stroll may be a horde of elderly swimmers in Speedos taking an afternoon dip. I found this very strange, to see a flock of elderly gentlemen splashing about in the less than pristine waters that make up Houhai, but what may be even more bazaar is that I have never seen a woman accompany them.
Among the swimmers on the lake are several paddle boats, some even taking the shape of a swan. People are seen gaily enjoying their afternoon snacks or perhaps the company of a lover underneath romantic awnings as the boats float past. A humorous thing that is all too common on Houhai is boats getting stuck sideways in the middle tunnel. I still have not figured out how this happens, but it happens a lot.
Hutongs line the back streets and allow shoppers to experience the cultural alley ways and hip stores in the area. Of course there are more bars back in these parts but also some unique things too. With a little knowhow and gumption, treasure seekers can find their prized China souvenir, seek refuge in a tea house, or find a unique piece of local jewelry. The demographics of the shoppers here lend Houhai an international flare. Although the hutongs themselves can be a little gray and drab, the bright and vibrant colors of the stores make this an exciting treasure hunt for shoppers.
My personal favorite thing to do around the lake is to find a park bench and soak in the natural beauty of Houhai. There are only a select few park benches on one section of the lake and are often taken up by visitors, so you may have to scout one out for awhile. Here, you can enjoy the setting sun or get lost in a good book.
◇ Houhai when the sun goes down:
Nightlife at Houhai Lake is very posh; the lake seems to be enthralled in a sea of art deco couches, expensive cocktails, and luxury fabrics. Around the lake, various bars make their spot known on the scene and amuse their guests with hired entertainers. These singers belt into the night as customers enjoy a break from the sun and relieving tensions of the day.
If the vibe at Houhai Lake doesn't suit someone's tastes, or they are big into bar hopping, Nanluoguxiang Street is not far away. Nanluoguxiang is another bar street in the area whose big claim to fame is Beijing's Smallest Bar, a little hole in the wall with about 2 chairs inside.
Houhai Lake can be reached by a quick stroll from the Bell and Drum Tower in Beijing.
(China.org.cn August 24, 2009)