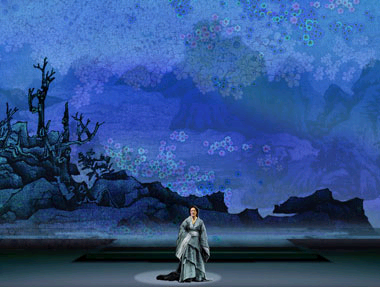 Original opera "Xi Shi"
Shanghai Opera House kicked off the new season for 2009-2010 last Saturday with the symphony concert "Cheers for Motherland" at Shanghai Concert Hall.
Almost 50 performances will constitute the new season, including various music styles like opera, symphony concert, dance, drama and cantata. The venues will include Shanghai, Beijing, Guangzhou (Guangdong Province) and Hong Kong.
The original opera "King of Chu" is one of the leading works of the opera house for the new season.
The story tells of the King of Chu State, Xiang Yu (232-202 BC), one of the most prominent generals in Chinese history.
Xiang was a dominating military tactician, and it took him only a few years to overthrow the Qin Dynasty (221-206 BC). He is commonly known by his self-styled title of "Xi Chu Ba Wang" (Hegemon-King of Western Chu). But he was poor at diplomacy, management and administrative affairs.
He is traditionally viewed as having an impetuous nature by Chinese historians and further inability to realize his shortcomings doomed him to failure during a struggle with Liu Bang (256-195 BC) over supremacy of China.
The original opera takes a different angle to this heroic war figure, looking at the romantic and human nature aspects.
"We are trying to look for and create our own Xiang Yu and also create an opera with new elements and style," says Zha Mingzhe, the opera director. "We are confident the opera will give a grand view of war, a deep description of human nature and the full range of music."
The opera house started this project two years ago and rehearsals began this month. The opera will debut at Shanghai Grand Theater on November 18 as the closing performance of Shanghai International Art Festival.
Other performances during the season will include the original opera "Thunderstorm" and "Xi Shi," original dance drama "Zhou Xuan," dance "Carmina Burana," music drama "A Midsummer Night's Dream," operas "Macbeth," "La Traviata" and "Posca" and "Yellow River Cantata."
Shanghai Opera House, founded in the 1950s, is one of the best-known and most influential performing groups in China. It plays an important role in the development of the opera and vocal art in China. The production and performance of famous works cover opera, chorus, symphony, dance drama, dance, musical theater and other vocal and instrumental programs.
Many of its original productions enjoy a high reputation, including the opera "The Wager," dance drama "Dagger Society," "Fly to the Moon" and "Phoenix in the Qi Mountain."
The Shanghai Opera House is also celebrated for performing Chinese and foreign classical works, such as Chinese traditional operas "Sister Jiang" and "The Wild Field;" foreign operas "Madame Butterfly," "Carmen," "Aida," "La Traviata," "Otello," "Tosca," "Turandot" and "The Nose;" "Yellow River Cantata," "Carmina Burana," Mozart's "Requiem" and Beethoven's "Symphony No. 9."
"We strive to reach a balance between original productions and classical works in the Shanghai Opera House's repertoire. Cultivating and enhancing artists, increasing effective promotion and improving public education are our future goals," says Zhang Guoyong, renowned conductor, also president and artistic director of the Opera House.
Zhang is also professor of Shanghai Conservatory of Music and resident conductor of Shanghai Symphony Orchestra.
He has cooperated with many orchestras and well-known musicians both at home and abroad. Apart from symphony repertoires, he has conducted numerous operas such as "Rigoletto," "Don Pasquale," "Madame Butterfly," ballets "Swan Lake" and "Giselle."
He was invited to be a member of the jury of the 8th Cadaques Orchestra International Conducting Competition in Spain in 2006.
The "Four Kings of Tenor" from Shanghai Opera House - Wei Song, Yang Xiaoyong, Chi Liming and Zhang Feng - issued their first album "Fantastic Harmony" together last week.
Zhang is the artistic director of the album.
Since the concert "Fantastic Harmony" premiered by the four tenors in 2006 as a celebration performance for the 50th anniversary of the opera house in 2006, it has been a huge success and been staged throughout China.
It will be staged at Shanghai Concert Hall on October 3 and 4 in celebration of National Day.
Booking hotline: 6249-1666
Website: www.shanghaiopera.com.cn/ycpw.asp
(Shanghai Daily September 14, 2009)