China's civil aviation authority is considering installing full-body scanners equipped with X-rays in major airports across the country, despite criticism from privacy advocates who say the machines are a "virtual strip search."
Li Jiaxiang, head of the Civil Aviation Administration of China (CAAC), said China has not yet made a decision about whether to install the full-body scanners.
"It is our concern that while we must ensure flight safety, passengers should not feel deprived of dignity or freedom when going through security checks," he said.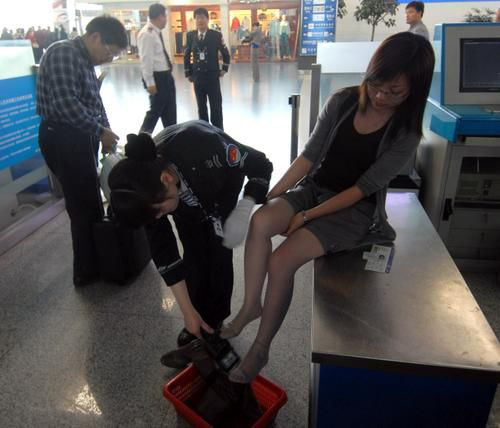 A girl takes off her shoes to receive security check in the airport in Xi'an, west China's Shaanxi province.
Following a failed attack on a Northwest Airlines flight from Amsterdam to Detroit on Christmas Day, US civil aviation authorities have installed full body scanners to increase security. According to China Daily, more than 19 American airports have now employed the use of at least one such scanner.
US Transportation Security Administration spokesman Greg Soule explained that the advanced imaging technology enhances security because it can detect both metallic and nonmetallic threats hidden on a passenger's body.
Following the US step, Britain, Netherlands, Italy and many other European countries announced plans to use the full-body scanning system.
However, some passengers and civil libertarians oppose the anatomically-revealing technology. They fear this security measure will invade people's privacy if the passengers' images or photos are stolen or accidentally released to the public.
Zhang Min, a journalist from China's top political and financial magazine Caijing, told to China.org.cn, "The key issue is not whether governments around the world use it or not. It's how to protect civilians' privacy and how governments show respect to their people."
Li Wei, director of the Center for Counter-Terrorism Studies at the China Institute of Contemporary International Relations, said although the CAAC has not made a final decision about the scanners, security checks at major airports have been strengthened to the level of the 2008 Beijing Olympic Games.
Nine security measures have been added, including deploying more air police in plain clothes aboard airplanes and more hand checks on luggage, according to media reports.
A Chinese Internet user named "shuj18" commented on Yahoo.cn, "As a passenger, what is of concern to me is how to get my destination safely. Only for the sake of passengers' security is full-body scanning acceptable."
Print story by Wang Ke