Premier Wen Jiabao says China will make its judgment on the sinking of the South Korean warship, Cheonan, in an objective and fair manner, based on the facts of the incident.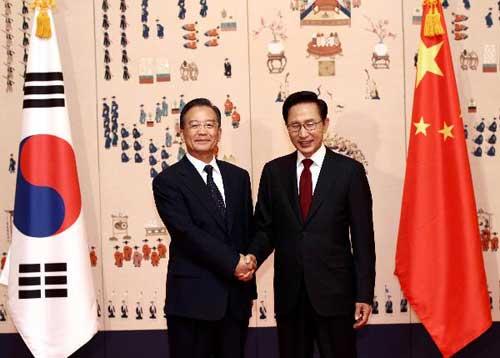 Chinese Premier Wen Jiabao (L) shakes hands with South Korean President Lee Myung-bak during their meeting in Seoul May 28, 2010. [Xinhua] 
The Premier is on an official visit to Seoul and made the comments during a meeting with South Korean President Lee Myung-bak.
Premier Wen Jiabao is undertaking a delicate diplomatic mission as he begins his official visit to South Korea.
Wen Jiabao told South Korea's President Lee Myung-bak that he condemns acts threatening stability and would not harbor anyone over the sinking of the patrol vessel Cheonan.
Wen Jiabao is urging all parties to remain calm and show restraint, so as to prevent the situation from deteriorating and potentially escalating into clashes. He says the two sides need to make a joint effort to maintain the hard-won peace and stability on the Peninsula.
Wen says all concerned parties should look at the long-term perspective, and actively promote the process of the six-party talks in a bid to resolve the nuclear issue and achieve lasting peace and stability.
This is Wen's second visit to South Korea since 2007 and his first visit to the country since China and South Korea established a strategic cooperative partnership in 2008.
Wen is also scheduled to attend a trilateral summit between China, Japan and South Korea on the resort island of Jeju. China hopes to speed up the establishment of a free trade area with South Korea and increase cooperation in education, science, culture and tourism.
On Friday, Wen also met with Speaker of the National Assembly Kim Hyong-o.