Visiting Australian Prime Minister, Julia Gillard, has overseen the signing of a series of cooperation agreements with China.
Gillard attended a welcoming ceremony in the Great Hall of the People in Beijing, early Tuesday, hosted by Chinese premier, Wen Jiabao.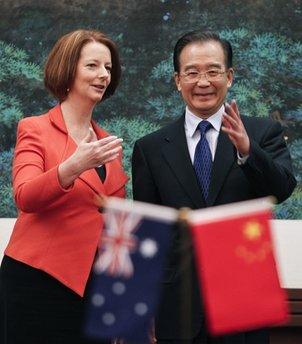 The Australian Prime Minister's four-day visit underlines Australia's growing relationship with China, with a focus on enhancing trade, and people to people ties. Agreements signed between both sides cover cooperation in trade, tourism, science and mining, including the Karara Iron Ore Project.
Gillard will also meet President Hu Jintao, and attend a roundtable of chief executives of major Australian and Chinese Corporations. The Australian prime minister is also scheduled to speak at the Australia-China Economic Trade Cooperation Forum. Gillard's trip to China is the third and final stop on a week-long regional tour after previous stops in Japan and South Korea.