China has won its 5th gold medal of the 2011 World Weightlifting Championships. The latest medal for China comes in the men's 77 kg final. And there China would see two lifters finish on the podium.
China's Lv Xiaojun is the 2009 World Champion. In his second attempt at the snatch, Lv demanded 170 kg. The snatch world record holder accomplished it with perfection. With the result, Lv took a lead of 4 kg heading into the clean and jerk.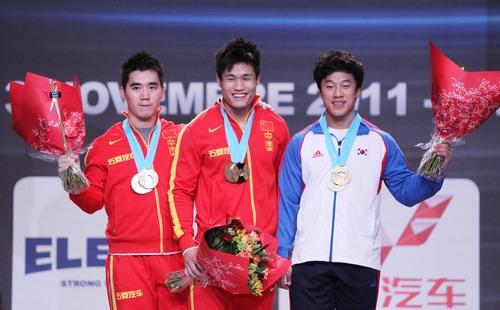 In the Clean and Jerk event, Sa Jaehyouk of South Korea staged a strong performance. The 2008 Beijing Olympic champion lifted 203kg which would lift him to the bronze medal.
But China's Lv was even stronger. The 27-year-old cleared 205 kg in the clean and jerk to take the overall gold medal with a total of 375 kg. Teammate Su Dajin grabbed the silver with a total of 372 kg.