Passengers traveling by road and air in northeast China's Heilongjiang and Jilin provinces have seen long delays, as blizzard weather swept through the region.
The first heavy snowfall of the season in Jilin province has taken its toll. On Saturday afternoon, Changchun International Airport in the province's capital canceled 56 flights, leaving over 2,000 passengers stranded. Nine snow plows and nearly 100 staff worked overtime to get planes back in the air.
Blizzard batters traffic in NE China.
"After we cleared the snow during the night, the runway has reached safety standards." Qiao CHunyong, staff of Changchun International Airport, said.
By Sunday morning, all flights had resumed. But the airport continued to warn passengers that weather and flight schedules could change suddenly, and all travelers should be ready to adjust their plans accordingly.
Road traffic was another victim of the heavy snow. Several expressways in Heilongjiang province were closed, after over 10 centimeters of snow accumulated on Sunday. At Fangzheng County's long-distance bus station, all routes were suspended and tickets were no longer being sold. While passengers could receive refunds, many were still left frustrated.
"I was going home with my kids. But we ran into the road closure. I have nowhere to go. I would not have come here if I had known the situation." Stranded passenger Xiao Wang said.
For the second straight day, China's top meteorological agency issued a yellow alert for blizzards on Sunday. And the agency said the heavy snow in the northeastern region wasn't expect to let up until Tuesday.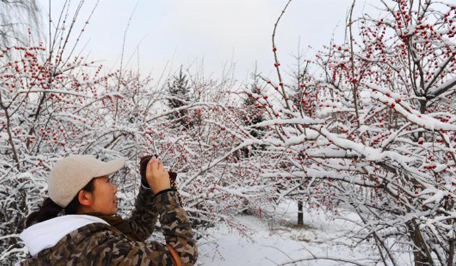 Blizzard batters traffic in NE China.