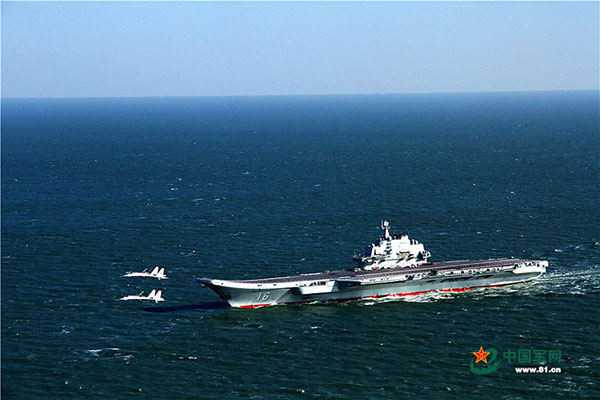 The Liaoning, China's first aircraft carrier, was refitted from a former Ukrainian vessel, Varyag. The carrier is 306.4 meters long and 74.4 meters wide. It has a displacement of more than 50,000 tons, and a maximum speed of 28 knots per hour. [Photo: 81.cn]
China's first aircraft carrier "Liaoning" is in the middle of a new round of exercises and tests in the northern Yellow sea. A dozen J-15 carrier-borne fighters successfully took off and landed on the deck of Liaoning.
The planes also successfully refuelled while airborne, among other tasks. Liaoning is built from an unfinished Russian carrier and became part of the People's Liberation Army Navy Surface force in 2012. The carrier took part in its first live-fire drill in the Bohai sea earlier this month.
"This is the first time our pilots have conducted landing in such complicated sea conditions. It's challenging technically, psychologically and in terms of the surroundings. We've done exhaustive research and preparations beforehand with our pilots and landing signal officers. So far they seem to have adapted quite well and the landings were smooth and successful. The exercises have met our expectations," said Xu Ying, commander of carrier borne fighter regiment.