China's homegrown J-15 fighter jets took off from and landed on aircraft carrier Liaoning on Monday - the first time that Chinese pilots have conducted such flights over the South China Sea.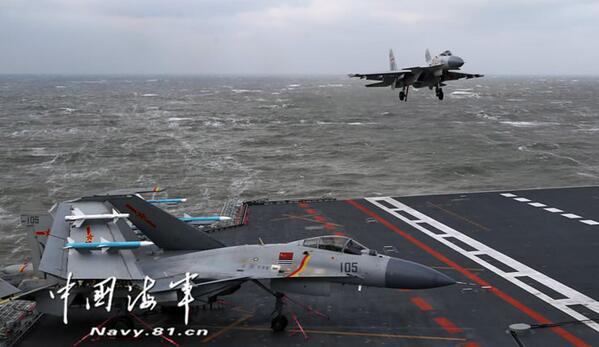 China's J-15 jets take off from carrier in South China Sea 
The Chinese naval formation, consisting of the carrier and several escort vessels, has recently carried out a series of exercises across the Bohai Sea, the Yellow Sea, the East China Sea, all the way down to the South China Sea.
Photos of the latest drills were published on the navy's official website, which said that the domestically-developed J-15 fighters have practiced flight refueling and air combat in recent drills over the South China Sea, despite complicated weather and sea conditions.
The navy also said the aircraft carrier formation was the first to sail through the Miyako Strait to break the First Island Chain, entering the Western Pacific region early on the morning of December 25.
Rear Admiral Chen Yueqi, the commander of the naval formation, said crossing the First Island Chain and entering the Pacific is a major step forward in improving the comprehensive capability of the aircraft carrier formation.
The Chinese military has not detailed the route by which the Liaoning entered the South China Sea. However, military authorities in Taiwan last Tuesday said the aircraft carrier had rounded Taiwan island, passing between the islands of Miyako and Okinawa and through the Bashi Channel, and sailed towards the island of Hainan through the South China Sea. Taiwan closely monitored the mainland's sole aircraft carrier's exercise.
The State Council's Taiwan Affairs Office said it was a scheduled blue water training exercise. Similar words were uttered in the Defense Ministry's monthly press conference, with the drills described as "regular and routine." However, the ministry also underlined that the latest exercises will help enhance the People's Liberation Army's capability of deterring the Taiwan secessionist forces and safeguarding national sovereignty and territorial integrity.