It's a bit tough being a toddler these days, especially if you've got an older sister with wisdom beyond her years.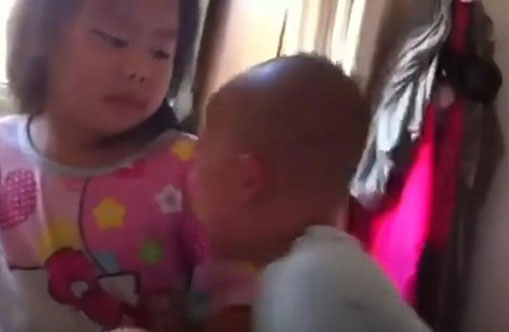 Sister knows best: 6-year-old teaches toddler brother a big life lesson 
A six-year-old girl and her little brother have become an internet sensation in China, after a video of her delivering a tough lecture on life to the two-year-old went viral.
The clip shows the younger brother seemingly intent on waging war with his sister by smacking and provoking her repeatedly, but it seems the tiny tot doesn't expect any repercussions from his naughty actions. The sister decides to give the troublesome toddler a good lesson to keep him in check, returning fire by lightly patting the toddler, before giving him a two-minute lecture and an early life lesson.
In the video, the girl sternly tells the boy that "you will get beaten if you beat others…you will receive help if you help others first… People will treat you the way you treat them in kind."
Her brother bursts into tears at first, but soon calms down and listens intently, as the sister looks to set her brother up for the harsh reality that is life – a topic that this six-year-old girl apparently already knows all too well.
Footage of the conversation has garnered tens of millions of views since it was uploaded to Sina Weibo on Saturday, although it was shot two years ago, according to the kids' mother. The mom said she filmed the conversation because she found their fight amusing, but she was also stunned by her daughter's sage sisterly advice.
Chinese netizens hailed the "extraordinary" girl's adorable lecture as a first-class piece of life coaching, and also praised the wise mother for not intervening in the siblings' confrontation, except for asking the boy to give her sister a hug.
"What a sensible and clever sister," said Weibo user @Weishenmeye.
"The sister is great, what she told her brother will benefit him for a lifetime," said @Jingting-Taiwan.