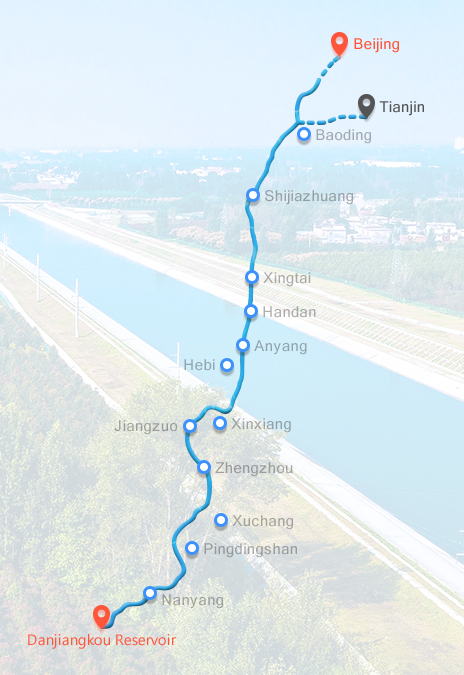 The central route of the South-to-North Water Diversion Project transfers water from the Danjiangkou Reservoir located in the upper and middle reach of the Hanjiang River, the largest tributary of the Yangtze River, to the Tuancheng Lake in Beijing's Summer Palace, running across the Yellow River through a tunnel.

Its main canal starts from Jiuchong township in Xichuan county of central China's Henan province on the east bank of the Danjiangkou Reservoir, passing through four provinces and municipalities – Henan, Hebei, Beijing and Tianjin. A total of 14 large and medium sized cities along the canal receive water from the project, which are Nanyang, Pingdingshan, Xuchang, Zhengzhou, Jiaozuo, Xinxiang, Hebi, Anyang, Handan, Xingtai, Shijiazhuang, Baoding, Beijing and Tianjin.
The project alleviates the water shortage in the four provinces and municipalities, and provides the 14 cities with water for residential and industrial use. The total area of water supply is 155,000 square kilometers, and the overall length of the canal is 1,432 kilometers.