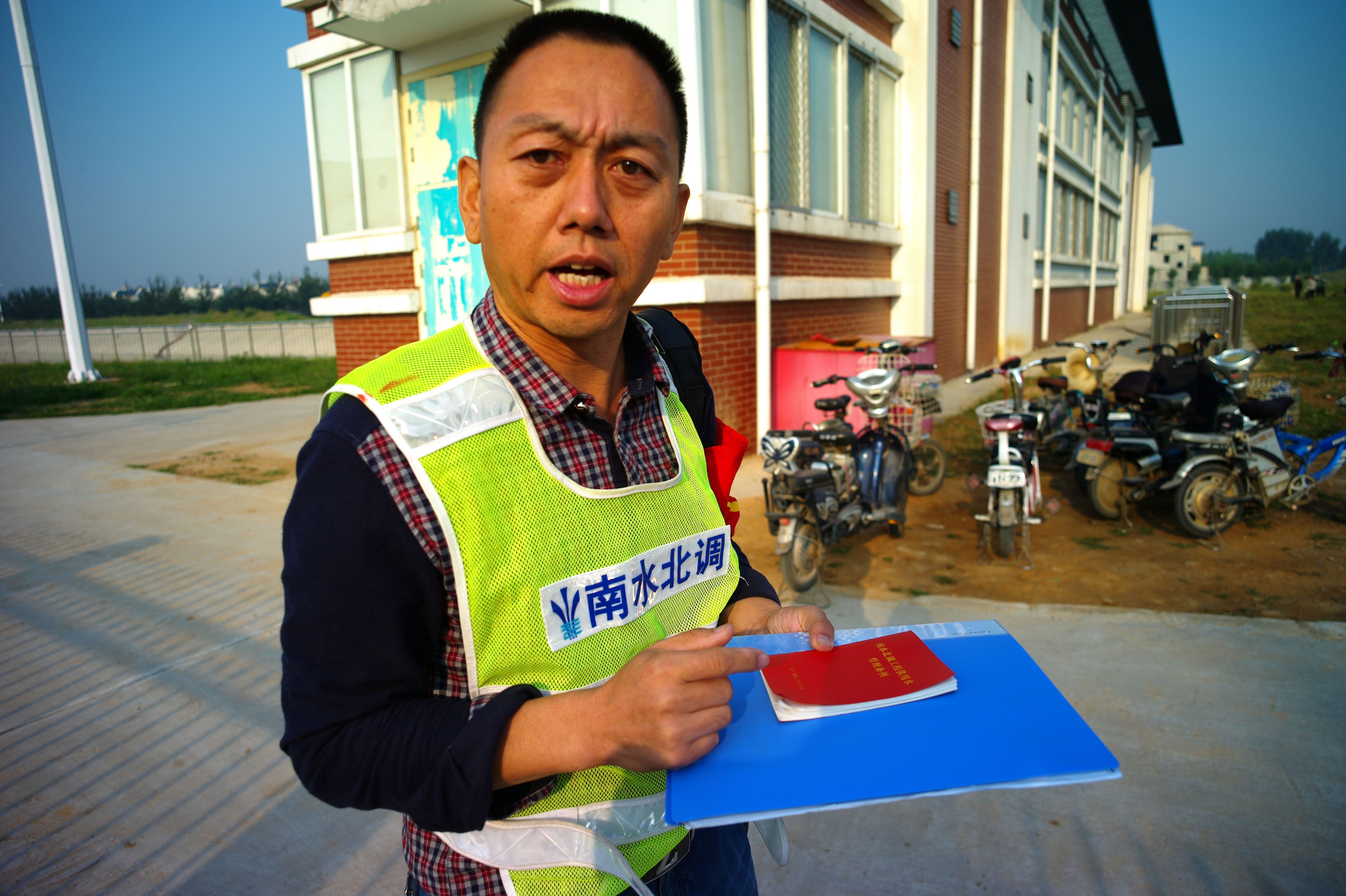 Liu Siping may look mild mannered, but he does not hold back on criticizing those responsible when he finds them deviating from regulations and protocol. [Photo by Cheng Gong/China.org.cn]
At 8 a.m., Liu Siping, 41, starts the security inspection for the South-to-North Water Diversion Project as he has done for a thousand times. He works for the Xingtai branch of the Hebei provincial sub-bureau under the project's central route construction and administration bureau. The Xingtai branch is in charge of one of the longest sections of the project in Hebei, with a total length of over 47 kilometers. With 57 bridges across the channel and 33 schools nearby, this section of the project can be difficult to manage.
Liu is accustomed to carrying a camera with him, as he alternates between working on a slope and under a bridge, recording tears and wears on the fences whenever he finds them. The camera has become a trusty daily tool. Every time he returns from the channel to the office, he arranges and classifies the photos of potential risks he discovers on that day. Then he contacts relevant personnel or report to the leader to address the problems timely.
Sometimes when there is an opening big enough on the fence nearby a school, children would sneak into the channel to play, which could be very dangerous. In order to avoid accidents, Liu started to raise awareness among security guards. He often goes to the gate stations to remind the security guards of the safety rules and regulations, and tell them about the problems he finds.
In his daily work, Liu carries the regulations handbook for the project, which he finds useful for solving problems and for coordination with other departments. He also regularly carries out joint security inspections with local police and security guards.
According to reports, since the water diversion project began operations, there are more than a thousand safety supervisors like Liu patrolling the banks every day.