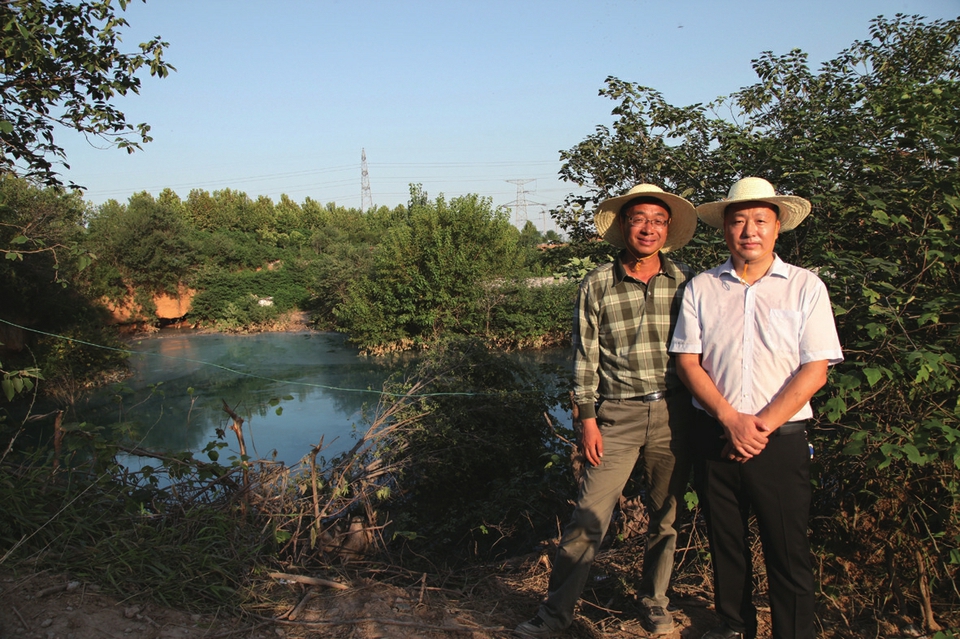 Yue Guangxian (L) has been working for the South-to-North Water Diversion Project since August 2005. [File photo provided to China.org.cn]
Yue Guangxian has been working for the South-to-North Water Diversion Project since August 2005. As the chief of the Weihui Office of the Henan provincial sub-bureau for the project's central route, Yue braves difficulties and works restlessly for the safe operation of the project.
When he first assumed his post, the construction site he administers had a weak foundation and was in a sub-standard shape. Yue and his staff conducted an overhaul of the construction project, improved its functions and working protocols, and boosted its safety operations.
Working on the project, the staff often face immense pressure from emergencies as well as onerous tasks. Yue coped with these pressure situations well and showed strong leadership and management skills.
On the early morning of July 9, 2016, heavy rain caused 167 instances of damages along the Weihui section of the project. Yue arrived at the site right away, made timely arrangements, and addressed the emergency quickly to ensure project safety.
On Sept. 1, 2017, water burst out from the Jindengsi section of the project. Yue quickly organized and led a rescue team to deal with the emergency on the front line.
During the nine days and nights of the rescue efforts, Yue kept working at the site and only rested for three nights. He did not even return home to look after his sick mother during her surgery.
The complex situation was finally under control through concerted efforts of the team.
Yue often says there are two things he cares about most: "One is my family, and the other is my work."