FBI Director Christopher Wray defended his agency on Thursday amid sharp criticism from U.S. President Donald Trump.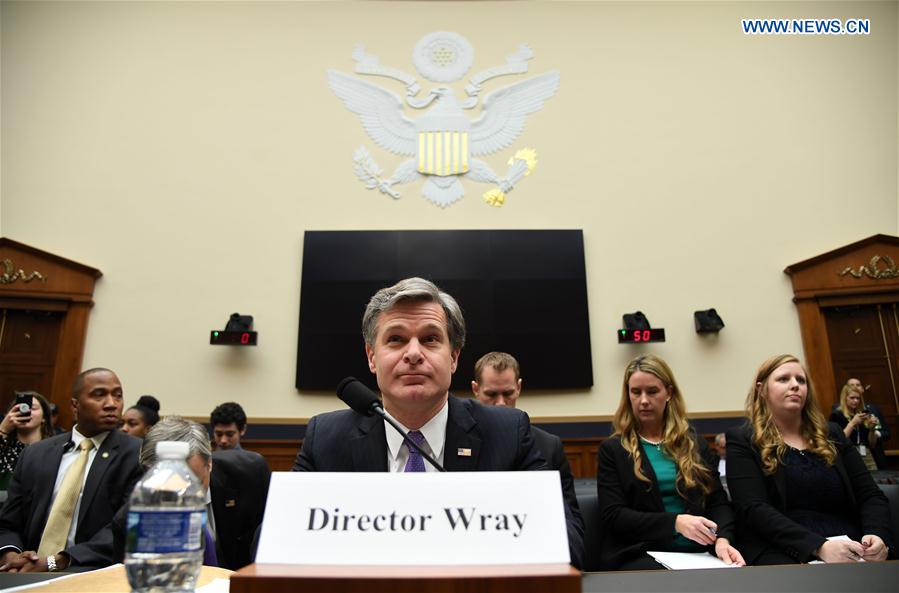 FBI Director Christopher Wray (C) testifies during a House Judiciary Committee hearing on Capitol Hill in Washington D.C., the United States, Dec. 7, 2017.
"There is no finer institution than the FBI," Wray told a House Judiciary Committee hearing in response to questions over Trump's attacks on the agency.
The director's comments came days after Trump slammed the agency as a biased institution whose reputation is in "tatters" and "worst in history."
Wray also faced questions over revelations that an FBI agent was removed from special counsel Robert Mueller' team because of anti-Trump texts. Mueller is leading an investigation of possible Trump campaign links to Moscow.
"There is no shortage of opinions out there," Wray said of the agency that he has led for four months. But he conceded that agents do make mistakes, adding that there are processes in place to hold them accountable.
Besides, Wray said Trump has not asked him to pledge his loyalty to him nor spoken to him about Mueller's investigation.
Wray predecessor, James Comey, has said that Trump asked him for his loyalty and asked him to halt an FBI investigation into former national security adviser Michael Flynn, who pleaded guilty Friday to lying to the FBI investigators over his contacts with former Russian ambassador to the United States.
Comey was fired by Trump in May.
Wray was sworn in early August. During his four-month tenure, the country has experienced two of the deadliest shootings in its modern history.