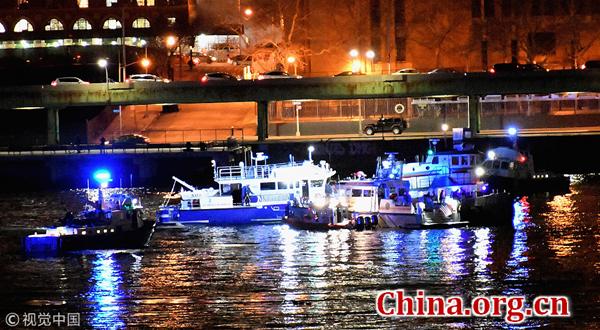 A helicopter carrying six people crashed in New York City's East River on Sunday night with all five passengers killed, according to local authorities.
Two of the passengers were declared dead at the scene, while the other three critically injured lost their lives after failed medical efforts in a nearby hospital. The pilot successfully freed himself and is currently in a stable condition.
The U.S. Federal Aviation Administration said the Eurocopter AS350 went down near the northern end of Roosevelt Island at about 7 p.m. local time and that they are currebtly investigating the cause of the accident.
A video posted on social media shows the red helicopter descending upright onto the water, before it tilts as it hits the surface of the river with its blades chopping violently in the water.
In 2011, a helicopter carrying a veteran pilot and four tourists crashed into the East River, killing three of the tourists. In 2013, a helicopter pilot landed safely after the aircraft lost power at about 1,500 feet (457.2 meters) with four tourists on board. There were no serious injuries.