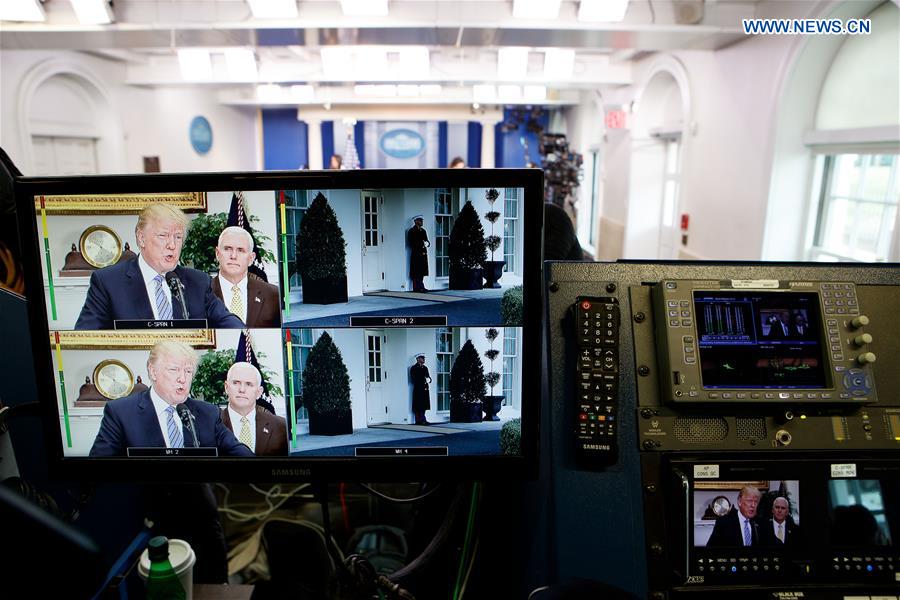 U.S. President Donald Trump is seen on a TV screen announcing tariffs on steel and aluminum, at the White House in Washington D.C., the United States, on March 8, 2018. (Xinhua/Ting Shen)
The U.S. decision to slap steep tariffs on steel and aluminum has ramped up tensions with its trading partners, leading to a growing wave of protectionism around the globe.
U.S. President Donald Trump last Thursday formally signed proclamations to impose a 25-percent tariff on imported steel and a 10-percent tariff on aluminum, which is scheduled to come into force in 15 days.
Trading partners or rivals?
Major trading partners including the European Unions (EU) and Japan are urging the United States to grant them exemptions from metal the planned import tariffs with worries that it might escalate into a trade war.
"We are worried (about) the possibility of having a trade war between the United States and the EU because we believe that there will be only losers. We believe that protectionism is a dead end," French Economy Minister Bruno Le Maire said Monday in a ministerial meeting among the European Union.
"Nobody can win this kind of race," German Chancellor Angela Merkel told reporters earlier in Munich. She said Germany would support the European Union if it ultimately decided to adopt retaliatory measures, but called for diplomatic talks to resolve the trade conflict as a first resort.
In a statement, Japanese Foreign Minister Taro Kono said the decision by the United States was "regrettable" and that the measure "will have a major influence on the economic and cooperative relations between the United States and Japan both in alliance and even the world economy."
The U.S.-triggered wave of protectionism put countries' "conventional knowledge" of their partners in doubt, said Jose Angel Gurria, secretary-general of the Organization for Economic Cooperation and Development (OECD).
Gurria said it is widely believed that countries become more vulnerable when their trading partners hold different convictions.
"The problem today is that the growing wave of protectionism, populism and nationalism ... put this conventional knowledge in doubt," said the OECD head.
"Domino effect"
The EU has warned that the bloc would impose about 3.5 billion of levies on certain U.S. products in retaliation and challenge the tariffs at the World Trade Organization (WTO) if Trump pressed ahead with his tariff policy.
The EU's Trade Commissioner Cecilia Malmstrom said Saturday that the United States has failed to provide full clarity on how the EU could be exempted from Washington's steel and aluminum tariffs, but said talks would continue.
WTO Director-General Roberto Azevedo on Monday warned of the potential "domino effect" of proposed U.S. tariffs on steel and aluminum.
Azevedo, who is in Brazil to attend the upcoming World Economic Forum for Latin America, said "this escalation, which I say has a domino effect, is an escalation that is tough to reverse."
"Once you enter the path of reciprocal reprisals, you know when it begins, you know how it begins, but you don't know how or when you will be able to stop the process," Azevedo told reporters.
"Unilateral" announcements like those made by Trump tend to spark counter measures, said Azevedo.
"This process of action and reaction lead, sometimes, to trade wars that are not in anyone's interest, where there are only losers, since there are no winners in a trade war," he warned.
Earlier, the WTO head called on members to avoid triggering an escalation of global trade barriers, urging them to reflect on the matter.
"In light of recent announcements on trade policy measures, it is clear that we now see a much higher and real risk of triggering an escalation of trade barriers across the globe," said Azevedo.