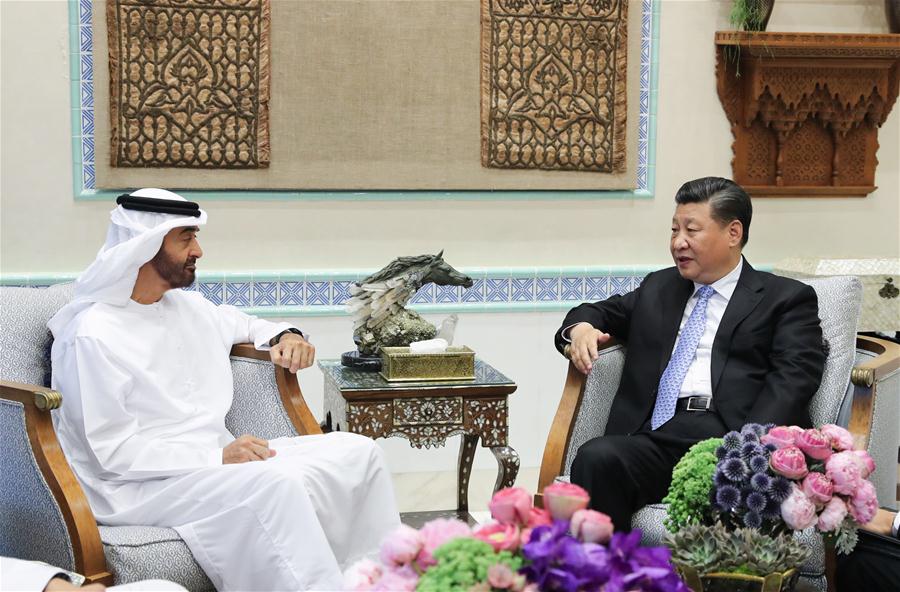 Chinese President Xi Jinping was invited to the residence of Crown Prince of Abu Dhabi Sheikh Mohammed bin Zayed Al Nahyan on Friday, and the pair exchanged views on China-United Arab Emirates (UAE) ties and issues of common concern.
Xi recalled the history of friendly exchanges between China and the UAE, saying the China-UAE traditional friendship has solid foundation and has become even stronger as time goes by.
The Chinese president noted that during a visit of the Crown Prince of Abu Dhabi to China in 2015, they drew a blueprint for the development of China-UAE relations, which opened a new chapter of bilateral ties.
Through my visit to the UAE, the two sides have reached broad new consensus, Xi said, adding that he has a strong feeling that the two countries' comprehensive strategic partnership has great potential.
The Chinese president said the two countries should deepen all-round cooperation and lay a concrete foundation for the long-term development of bilateral ties.
For his part, the Crown Prince of Abu Dhabi said that Xi's state visit to the UAE is of great importance and has produced fruitful results.
The UAE is willing to be China's most important partner in the Middle East, jointly implement the important consensus reached during the visit, and promote the continuous development of bilateral cooperation in all fields, he said.