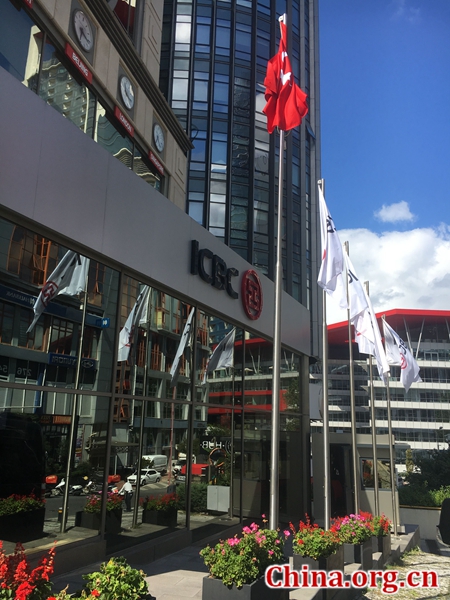 ICBC Turkey, as the first Chinese financial institution to operate in the country, is taking every opportunity to further promote Sino-Turkish economic and trade cooperation with a view to becoming the leading bank supporting Belt and Road projects.
Li Jinhong, deputy general manager of ICBC Turkey, emphasized that the unique geographical position of Turkey makes it possible to build a unified platform for the bank's business operations across 17 countries around the Mediterranean and Black Sea, such as Israel, Azerbaijan, Georgia and Macedonia.
While Turkey is a geographical bridge between Europe and Asia, ICBC Turkey aims to act as a bridge linking Chinese enterprises with the country's own market and provide more convenient and all-round financial services to jointly build the Belt and Road, Li said.
The largest foreign direct investment by China in Turkey in recent years is the 2015 acquisition of a majority stake in Kumport, the third largest container terminal in the country, by a Chinese investor consortium of COSCO Pacific, China Merchants Holdings International and CIC Capital.
"Chinese enterprises going global tend to be competent and competitive," said Liu Peiguo, non-executive director of ICBC Turkey. "Although they didn't need loan support for such an acquisition, they still applied for a working capital loan of US$40 million from ICBC Turkey for operation of the container terminal."
The bank has also provided refinancing and syndicated loans for projects to improve local livelihood, such as the Elazig Hospital PPP project and the suspension bridge over the Dardanelles Straits, Liu added.
Licensed for commercial banking, investment banking and asset management, ICBC Turkey is now the largest Chinese bank based in Turkey.
Since acquiring a majority share in Tekstilbank in May 2015, ICBC has formed a network of 44 branches and 20 units for securities businesses, spreading over 18 cities including Istanbul, Ankara and Izmir.
For the past three years, ICBC Turkey has taken measures to promote Sino-Turkish cooperation in infrastructure and production capacity, aiming to align the Belt and Road Initiative with the Turkish Middle Corridor Initiative, Li said.
This year, Turkey plans to issue Panda bonds — yuan-denominated debt sold in China by foreign firms or governments — to diversify its financing sources. ICBC Turkey has a mandate from the Turkish Treasury as one of the three lead underwriters to promote such bond operations, according to Li.
Not only is this a great move by the Turkish government, but it sends important signals to the Turkish people, said Oraj, general manager of the securities division of ICBC Turkey.
"The issuance of Panda bonds will attract the attention of the Turkish people, in particular, making them more concerned with the present China-Turkey relations," he said.
Such a cooperation would boost the internationalization of Chinese yuan, Oraj added. "Meanwhile, the funds raised from the Panda bonds will be included in the national central budget, and finally used for investment in local infrastructure construction."
He expected the investment would, to some extent, contribute to Belt and Road projects and bring more tangible benefits to the Turkish people.