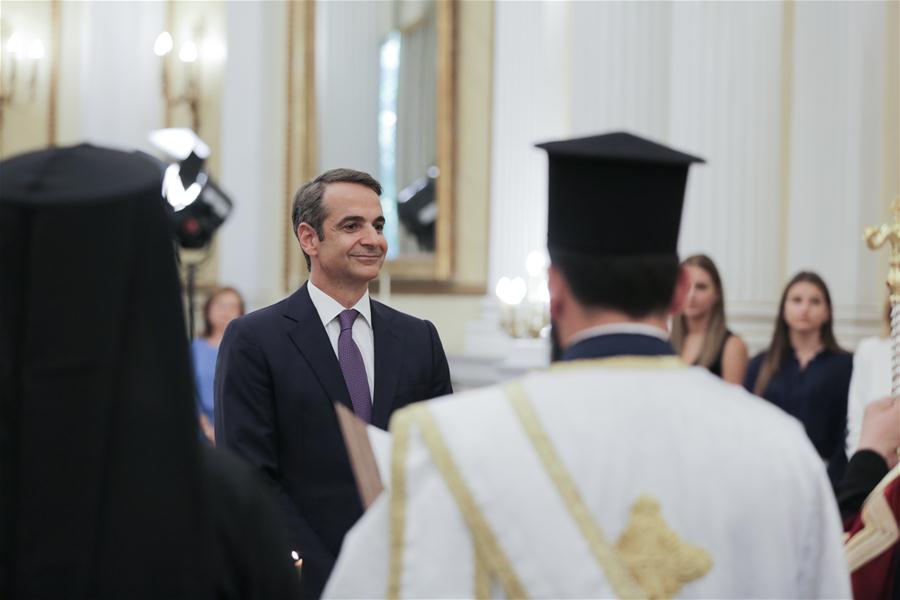 Kyriakos Mitsotakis, leader of Greece's conservative New Democracy party, was sworn in on Monday as Greece's new prime minister after winning Sunday's national snap elections.
Accompanied by his family, Mitsotakis arrived at the presidential mansion to take his religious oath in a ceremony presided by the Orthodox Christian Church Archbishop Ieronymos of Athens and All Greece.
He sworn to "safeguard the Constitution and the laws and to serve the general interest of the Greek People."
Greek President Prokopis Pavlopoulos called Mitsotakis earlier in the morning and formally informed him that he has the mandate to form a government, after securing a solid parliamentary majority.
"The Greek people gave us a strong mandate to change Greece. We will honor this mandate in full. From now on the hard work starts. I have absolute confidence in our ability to be a match for what is at stake," Mitsotakis told media after the ceremony.
The newly sworn-in prime minister headed to the Maximos Mansion, where the seat of government has been based for the past few decades, for the handover ceremony.
Former prime minister Alexis Tsipras welcomed him and gave over the office to the newly elected. Mitsotakis is expected to announce the formation of his cabinet later in the day.
According to the data released by the Interior Ministry, Greece's conservative New Democracy (ND) party garnered 39.85 percent of votes with 158 seats in the 300-member assembly.
SYRIZA, the Coalition of the Radical Left of Tsipras, secured 31.53 percent of votes and 86 seats.
The last time a prime minister assumed power in Greece with a majority Parliament seats was in October 2009, when George Papandreou and his socialist PASOK won a landslide victory, just before the start of the Greek debt crisis.