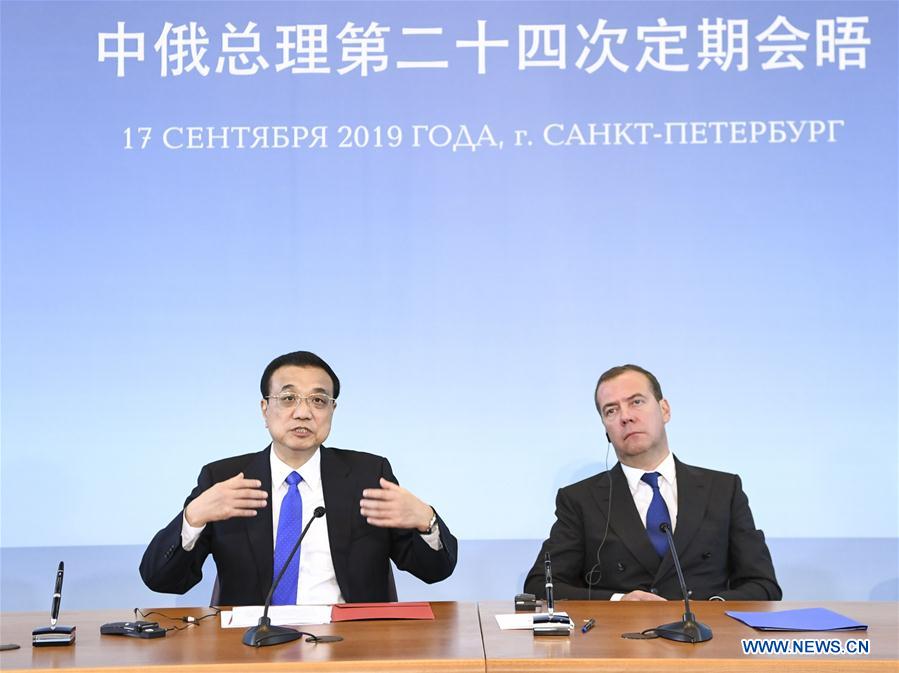 China and Russia should open up more to the world and to each other to achieve mutual benefit and common development, Chinese Premier Li Keqiang said in St. Petersburg Tuesday.
Jointly meeting the press with Russian Prime Minister Dmitry Medvedev, Li said that as the two countries observe the 70th anniversary of their diplomatic ties this year, the sound and stable development of bilateral relations is in the interests of both sides and also conducive to human progress under current circumstances.
Describing bilateral pragmatic cooperation as comprehensive, broad and of high level, Li said while the two countries' cooperation in traditional spheres like energy is making new breakthroughs, their cooperation in new areas like cross-border e-commerce and sci-tech innovation is also gaining steam.
He expressed hope that the two sides will actively explore deepening refining-petrochemical integration, and increase the added value of energy cooperation to help realize their goal of doubling bilateral trade on time.
Noting that both countries support multilateralism and free trade, Li said China is furthering opening up with its manufacturing sector fully open now. He invited Russian companies to seize the opportunity and invest in China.
Li also urged the two countries to tap their cooperation potential in sci-tech innovation as they have designated the years of 2020 and 2021 as "Year of Scientific and Technological Innovation" in each other's country.
Medvedev said the two countries' comprehensive strategic partnership of coordination has entered a new era, and the two sides are in close communication with pragmatic cooperation in various areas achieving new progress.
Earlier Tuesday, Li and Medvedev co-chaired the 24th regular meeting between Chinese and Russian heads of government.
Medvedev said that during the meeting, the two sides signed a slew of cooperation agreements in a wide range of areas. He pledged Russia's willingness to work with China to expand their cooperation from traditional energy to high-tech to inject new vitality to their comprehensive strategic partnership of coordination for a new era.