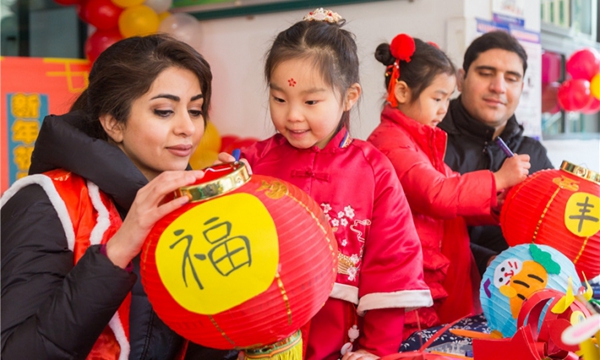 Editor's Note: As the world is turning the page to a new year, there is prospect of new opportunities. In 2021, China will kickstart its new round of Five-Year Plan. How will the plan change China? How can we promote people-to-people exchanges under circumstance of the pandemic? In an interview with China Focus, Karen Christensen, chief executive officer and owner of Berkshire Publishing Group gives her insights on these questions. She is also a writer specializing in sustainability and community with a focus on China. Her research examines human bonding and conflict resolution in Chinese history, with a focus on contemporary politics/business and female leadership.
China Focus: In recent years, the worsening Sino-US relations has affected people-to-people exchange. Based on your experience, what's your opinions about its significance of keeping cultural and people-to-people exchanges? How should the two countries maintain people-to-people exchanges in the future?
Karen Christensen: You won't be surprised to hear that I consider people-to-people exchanges of utmost importance! One of things that I liked most about being in China when I first went there on business in 2002 was that eating together was considered essential. I found that talking about Chinese food was a great way to learn more about China, and about the people I was dealing with, as they told me about where they'd grown up, about their regional dishes, about their life experiences. I remember being taken to dinner by a senior editor at a major press in Beijing in 2002. I was new to China then and was surprised when the waiter brought a large fish, still alive and flopping around a bucket, to the table. The host and the waiter had a lengthy discussion and looked very serious. Eventually, as you will guess, that fish was brought to the table in grand style, steaming and fragrant on a big platter. I then began to appreciate the attention that Chinese people give to detail, getting the food just right for a celebratory occasion, and how very hospitality they are, how welcoming to strangers. This is a quality I hope will be better known, and needs to be conveyed because it shows true openness and conviviality.
And now, more than ever, we need to do more to understand one another. This means studying other cultures, learning the history of other countries, and having as much access as possible to international opinions and debate. We need to build our friendships, develop global guanxi (relations) and work together in partnership on small projects as well as big ones. We all need to be willing to learn from one another, and right now, while COVID-19 limits our face-to-face interactions, let's find more ways to work together remotely. This will benefit the world today, and will help to create the future we want for our children.
China Focus: The "Five-Year Plan" of China is a relatively unique feature of Chinese system that outlines national economy and social development. How to see the 14th "Five-Year Plan" (2021-2025) of China recently issued by the Chinese government? Will it enhance the understanding of China's future development?
Karen Christensen: If we think of a Five-Year Plan as similar to a business's strategic plan, it is easy to see how valuable such a plan is to leaders at all levels: It provides a common measuring stick for tactical efforts taken day-by-day and month-by-month. The world is constantly changed, with new problems like COVID-19 and climate-change related disasters, and a long-term plan helps in staying on course.
Berkshire Publishing is known for its publications on world history and international relations, so we have quite a lot of coverage of previous Five-Year Plans. One of the most intriguing things about China's approach is the idea of moderate prosperity. This is a laudable goal and very realistic. I wish more people understood the economic challenges that face a country with such a large population, in which so many were until quite recently living in poverty. We often see images of the very rich, and unless we travel in China or study the country, we don't realize that wealthy urban people are only one part of the picture. A Five-Year Plan can be useful in providing a more comprehensive picture of the country's current situation, and its values and objectives.
I understand that this new plan is in draft outline now, and hope that my comments here can be helpful. Dealing with climate change, preventing future pandemics, and ensuring health and prosperity for all peoples requires systemic thinking and long-term planning. This makes the new Five-Year Plan important for all of us.
China Focus: How does the new development pattern "dual circulation" put forward by Chinese leader influence the post COVID-19 global economic recovery?
Karen Christensen: The concept reminds me of a phrase used by environmentalists: "Think globally, act locally." A fundamental American concept is "self-reliance." Leadership for sustainability will naturally include this type of focus on a nation's own economic resilience, while keeping doors open to the rest of the world. My company has published on related issues in the Encyclopedia of World History and Encyclopedia of Community, and in the new Encyclopedia of Sustainability we will be covering the latest thinking from global economists and social theorists. Unfortunately, "dual circulation" is not a terminology that is immediately clear to a native English speaker. There are economists, scholars, and environmentalist who are working on models for "dual circulation" that will be beneficial to people around the globe, and I trust that China will be contributing to this robust discussion.
China Focus: "Innovation" has appeared 47 times in the draft proposal of the 14th "Five-Year Plan". The plan has put innovation at the core position of the future national development. How will China's effort of encouraging innovation facilitate its sustainable development?
Karen Christensen: Innovation is a foundation for high-quality, middle-class jobs, which are needed in every country to reduce social and economic inequality. And creating a sustainable future for all people is going to require much creativity and innovation, so we can all be pleased to think that China will be focusing on encouraging innovative thinking and research.
Innovation has come up frequently in my conversations over the years with Chinese publishers, who were trying to sell translation rights and trying to understand what might appeal to global audiences. It became something of a cliché that Chinese companies copy Western companies instead of coming up with new ideas and designs of their own. But the greatest commercial success and influence come from inventing things that are completely fresh, and it will be fascinating to see how China inculcates a creative mindset in its educational system and professional training in different industries. I know from my conversations with Chinese publishers that it is hard for them to imagine what new books from China will appeal to international readers. They are sometimes surprised when we don't like books they thought would be appealing. This is why I want to work with Chinese publishing partners, to find or commission books together, and then work with authors to develop stories that will meet international readers' expectations. I am also certain that international readers will want to read accounts of scientific and technological innovation in China.