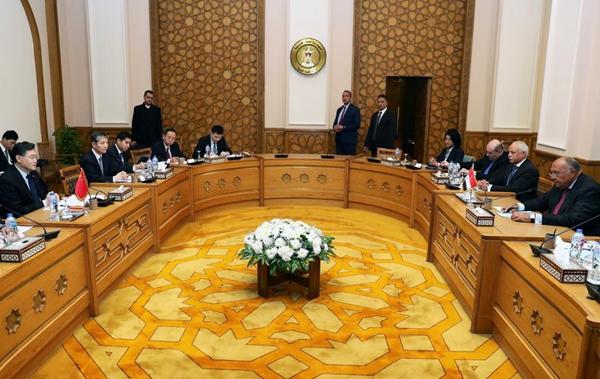 China maintains that the sovereignty and territorial integrity of countries in the Middle East should be respected, visiting Chinese Foreign Minister Qin Gang said on Sunday.
While meeting the press with his Egyptian counterpart Sameh Shoukry, Qin talked about China's Middle East policy, saying as for the region's hotspot issues, China encourages regional countries to seek, through dialogue and consultation, solutions that suit regional realities, accommodate the interests of all parties and are acceptable to all parties.
He said that, in recent years, countries and peoples in the Middle East, as an important force in a multipolar world, have strengthened unity and strength, promoted development and revitalization, actively advocated exchanges among civilizations, and committed themselves to upholding fairness and justice.
On the other hand, he said, the situation in the Middle East remains unstable and uncertain with rise and fall of regional hotspot issues, adding that some countries are in turmoil, and external interference is still an important factor undermining security and stability and affecting long-term peace and stability in the region.
The Chinese foreign minister called for more development support for countries in the region to help them meet food and energy security challenges and lay a solid foundation for regional development, saying that joint efforts should be made to fight terrorism and prevent the spread of terrorist and extremist forces taking advantage of chaos.
China calls on countries outside the region to respect the sovereignty of Middle East countries and not to interfere in their internal affairs; to practice true multilateralism and refrain from unilateral bullying and creating conflicts; to respect the history and cultural traditions of the Middle East and refrain from creating gaps among civilizations, and to inject positive energy into regional security and stability, Qin said.
Qin said that China always supports the people in the Middle East in independently exploring their own development paths and supports Middle East countries in solving regional security issues via cooperation and coordination.
Committed itself to Belt and Road cooperation with Middle East countries, China will work hard to implement the Global Development Initiative, jointly pursue development and revitalization, act on the Global Security Initiative, advocate the establishment of a common, comprehensive, cooperative and sustainable security architecture in the Middle East, as well as contribute its wisdom and solutions to the political settlement of regional hotspot issues, Qin said.
China will also actively engage in cultural exchanges with Middle East countries to jointly safeguard the diversity of world civilizations, he said.