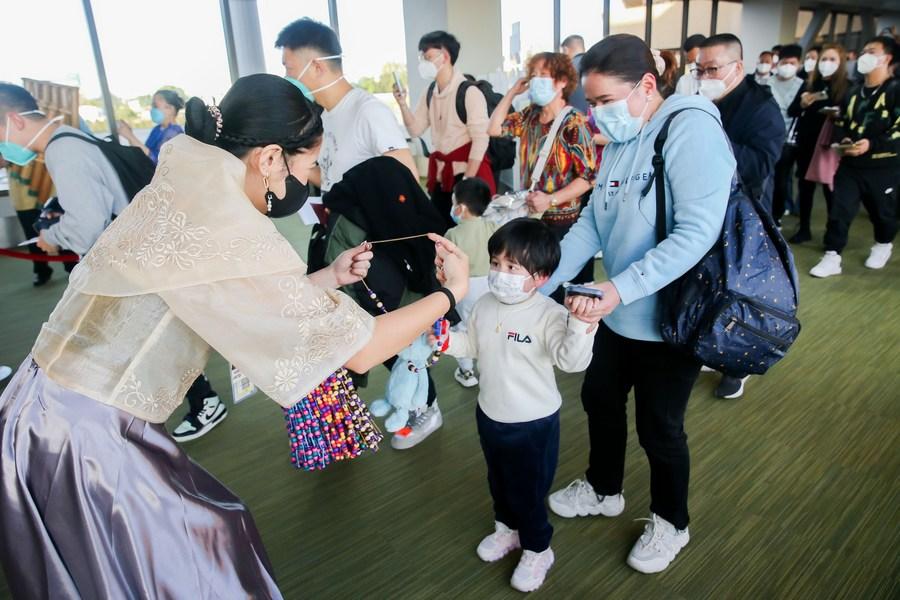 Tourists from China are welcomed at the Ninoy Aquino International Airport Terminal 1 in Pasay City, the Philippines, Jan. 24, 2023. [Photo/Xinhua]

"The Philippines is open and ready to welcome our friends from China," said Philippine Tourism Secretary Christina Frasco while receiving hundreds of Chinese tourists who arrived in Manila Tuesday afternoon.
Frasco said the arrival of these people aboard a commercial flight "signals a very auspicious start" to the Chinese New Year, adding her country, famous for world-renowned pristine beaches, is anticipating more tourists from China.
She invited Chinese tourists to "feel the warmth of the Filipino people and to enjoy our award-winning beach destinations and all other nature-based offerings" across the country.
"Our intention is not only to regain but to exceed our pre-pandemic numbers, knowing how the relationship between the Philippines and China will only further improve in the years to come," Frasco added.
As a key economic driver, the tourism industry's contribution to the Philippines' gross domestic product stood at 12.7 percent in 2019.
Over 1.74 million Chinese tourists visited the Southeast Asian country in 2019, an increase of 38.58 percent from 2018. Chinese tourists spent more than 2.3 billion U.S. dollars while vacationing in the country, official data showed.
However, the COVID-19 pandemic dealt a severe blow to the tourism sector, slashing foreign arrivals and displacing almost 1.1 million service workers across the country.
"The tourists will help the Philippines in its efforts to transform and recover the tourism industry," Frasco said Tuesday at the airport, adding the returning of Chinese tourists will have a positive impact on the sector.
The Philippines received over 2.65 million foreign tourists in 2022, earning roughly 3.82 billion U.S. dollars in revenue. The Southeast Asian country's target for 2023 is to lure some 4.8 million international visitors, with the Chinese tourist market remaining on its priority list.
In a message on the eve of the Chinese New Year, Frasco had expressed her wishes to make the Year of the Rabbit "a truly prosperous year for Philippine tourism," noting the rabbit symbolizes "longevity, peace and prosperity."
Earlier this month, an agreement to promote tourism cooperation between China and the Philippines was signed during a visit to China by Philippine President Ferdinand Romualdez Marcos.
China has recently identified the Philippines as one of the first batches of countries where Chinese group tours are allowed to resume.
Chinese Ambassador to the Philippines Huang Xilian predicted more Chinese tourists will put the Philippines on their voyage list after the two countries agreed to deepen people-to-people exchanges.
Shi Huating, aboard the flight arriving from China's eastern coastal city of Xiamen, is expected to have a reunion with her Filipino friends in Binondo, a five-century-old Chinatown in Manila.
"I feel excited. It's been a long time because of the pandemic," the Chinese teenager told Xinhua, saying she missed her Filipino friends.