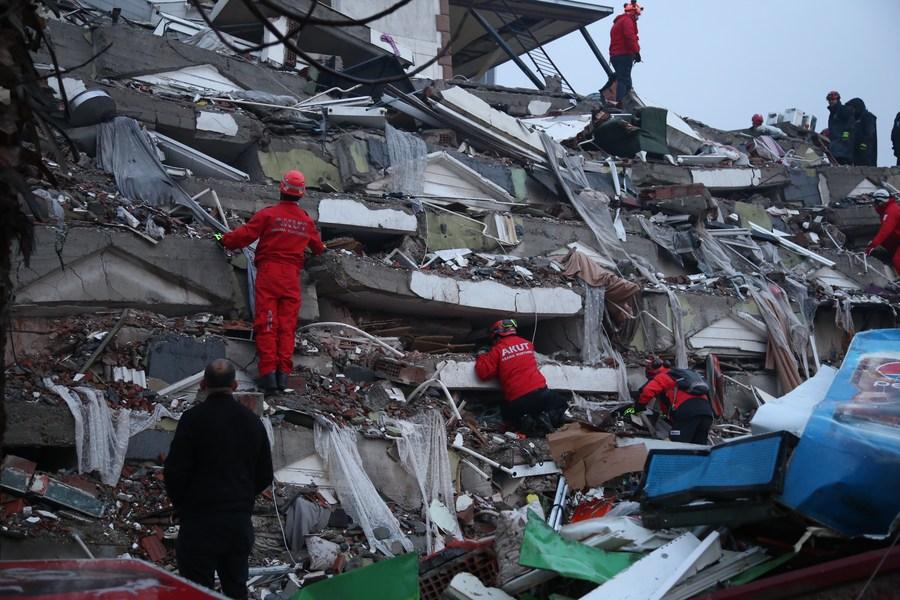 Rescuers search for survivors on the rubble of a building destroyed in a powerful earthquake in Kahramanmaras, Türkiye, on Feb. 7, 2023. [Photo/Xinhua]

A pregnant woman was loaded into an ambulance and rushed to a hospital early Thursday in Hatay, Türkiye, immediately after she was rescued from under the rubble of a collapsed eight-story building.
Hatay was one of the hardest-hit areas by the massive earthquakes that jolted Türkiye and neighboring Syria on Monday.
International rescuers, including those from China, are racing against time searching for signs of life among the wreckage in quake-stricken regions, as the essential 72-hour window has closed, but sanctions by the United States on Syria have obstructed coordinated efforts to save lives in the country, triggering worldwide criticism.
Climbing casualties
According to the latest statistics, the death toll from the devastating earthquakes reached 14,014 in Türkiye and 3,556 in Syria and is expected to rise further, as the 72-hour window closed on Thursday morning.

More than 90 percent of earthquake survivors were rescued within the first three days, and the survival rate for those stranded without water and food drops drastically after the first 72 hours, said Gao Mengtan, a research fellow at the China Earthquake Administration.
He also warned that the optimal survival window may be much smaller than anticipated, given the low temperatures that swept through the disaster zones, which will increase the risk of fatal hypothermia.
Turkish President Recep Tayyip Erdogan said his country is facing "one of the biggest disasters of the history of the Republic of Türkiye."
On Wednesday, he visited a "tent city" in hard-hit Kahramanmaras where thousands of survivors were living and admitted that there were some problems in the first-day response to the deadly earthquakes.
Meanwhile, Turkish volunteers flocked to the quake-hit zone to help the victims. Terminals were crowded with volunteers willing to lend a hand. Roads leading to the affected areas were clogged with vehicles transporting supplies or offering assistance.
Kerem Okyay, a Turkish volunteer, drove 200 km to help the victims in Elbistan, the epicenter of a 7.6 magnitude quake.
"We formed a team of volunteers with some friends as soon as we heard the news and came here immediately," said Okyay, adding they have helped save two survivors from under the ruins since their arrival on Monday.
"We were focusing on areas where we could hear people," he said.
In Syria, most of the quake-hit cities are still waiting for international aid, especially excavation equipment and medical supplies. Rescuers in Aleppo, northern Syria, have to dig through the rubble with their bare hands due to lack of rescue equipment.
UN Secretary-General spokesman Stephane Dujarric said on Wednesday that the road leading to the Bab al-Hawa Border Crossing from Türkiye to northern Syria was damaged, and aid delivery to the rebel-held northwest was temporarily disrupted.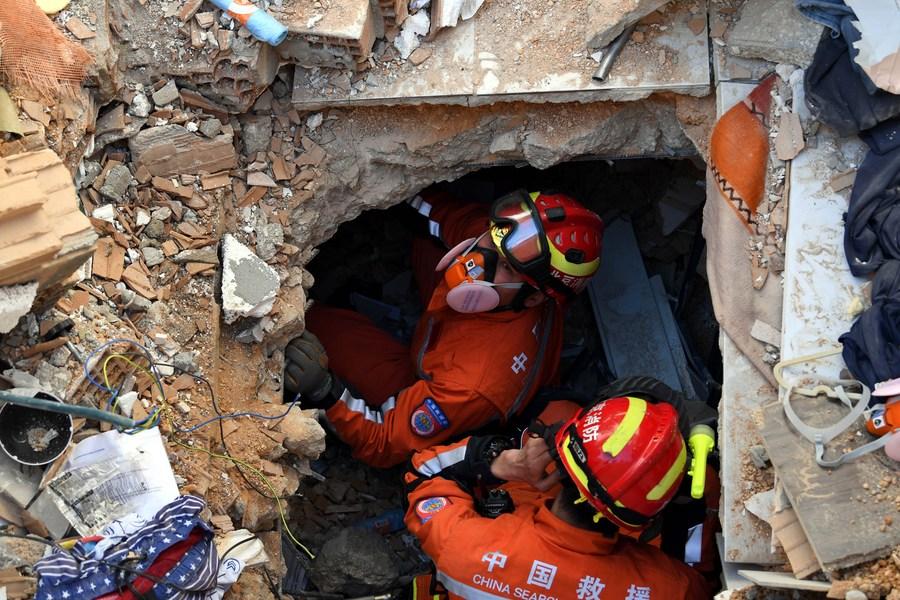 Members of the China Search and Rescue Team carry out rescue operation inside earthquake debris in Antakya in the southern province of Hatay, Türkiye, Feb. 9, 2023. [Photo/Xinhua]

International aid pours in
International search and rescue teams, including an 82-member Chinese rescue team that arrived in Türkiye on Wednesday, rushed to the quake-impacted zone to assist in rescue efforts.

The Chinese team arrived in the city of Adana in southern Türkiye in the wee hours of Wednesday with around 20 tons of relief materials and equipment.
A Chinese civil rescue team and members of the Blue Sky Rescue (BSR) team, with rich experience in international rescue, also reached Türkiye, bringing rescue dogs, equipment, and other necessary resources to support their work.
"We will try our best to search for and rescue survivors," said Zhang Yupu, a BSR member from east China's Jiangsu Province, who had participated in the Wenchuan earthquake relief in 2008.
Chinese companies are also lending a helping hand. The local branch of Chinese machinery giant Xuzhou Construction Machinery Group has deployed dozens of excavators and loaders as well as relief materials such as blankets and hygiene products to the earthquake-ravaged region.
Countries across the world also sent help. Russia has sent a second rescue team with medical specialists and rescuers to Türkiye, according to the country's emergencies ministry Wednesday.
More than 100 Russian rescuers have already arrived in Türkiye, and most are conducting search and rescue operations in the Kahramanmaras Province, which was the most affected by the earthquake.
Tunisia has dispatched three aircraft carrying rescuers and emergency aid, including food, medication and clothing, to the two quake-stricken countries.
Saudi Arabia launched a donation campaign on Wednesday to help the victims in Syria and Türkiye. A total of 25 million Saudi Riyals (6.7 million U.S. dollars) has been collected so far, according to local press.
Armenia has sent 27 rescuers to the quake-hit regions of Türkiye and 29 to Syria to assist in the search-and-rescue operations, its Internal Affairs Ministry said Wednesday.
Jordan, Sudan and Lebanon also announced plans to send rescue teams or aid to quake-impacted areas in Syria and Türkiye.
As of Wednesday morning, 20 European Union (EU) member states and three countries participating in the EU Civil Protection Mechanism sent a total of 36 rescue and medical teams, comprised of around 1,500 personnel and 100 search and rescue dogs, said Janez Lenarcic, European commissioner for crisis management.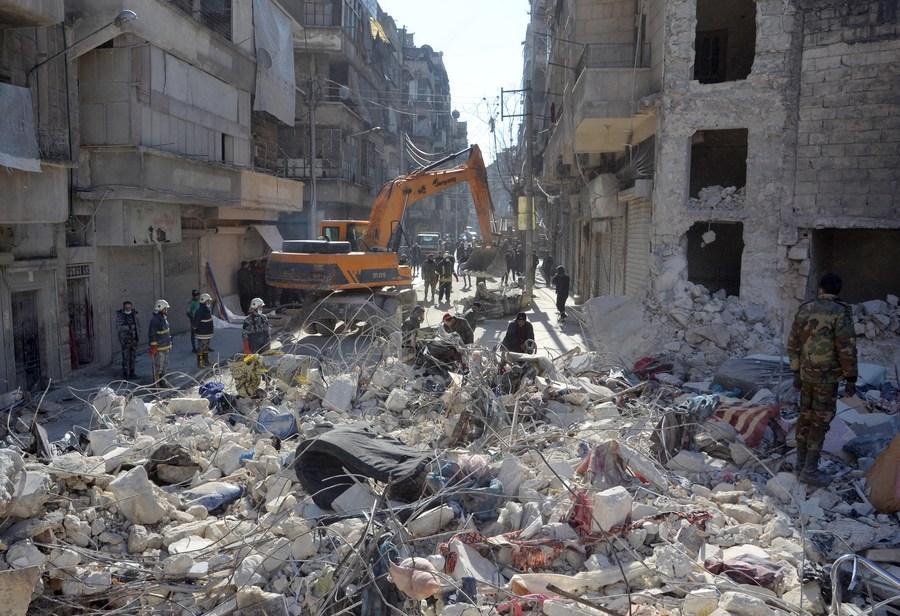 Rescue workers search for survivors among the rubble of a damaged building in the Karm al-Jabal neighborhood in Aleppo city, northern Syria, on Feb. 8, 2023. [Photo/Xinhua]
Outcry for lifting US sanctions

In Syria, where the economic situation is even worse than Türkiye, people are railing against the United States for retaining economic sanctions when Syria desperately needs help from the international community.

"These sanctions 'punished' us, but we didn't do anything. Shame on them ... They must remove these sanctions," Aisha al-Hilu, a school teacher in Syria's northern city of Aleppo said.
She told Xinhua that she and her family fled the house without taking any belongings and are in desperate need of food and clothing in the freezing weather.
Aleppo is among the cities hardest hit by Monday's megaquakes. The media office at the Aleppo governorate headquarters told Xinhua on Tuesday that the quakes killed at least 364 people, injured 702 others and toppled 52 buildings in the city.
The city is also one of the most devastated by Syria's civil war. The decade-long war and Western sanctions have damaged infrastructure and impoverished millions in northern Syria, making locals more vulnerable to natural disasters.
The Syrian Foreign Ministry said on Tuesday that U.S. sanctions are impeding rescue efforts and humanitarian assistance in Syria. As rescue equipment is banned in the country by the United States, Syrians are removing the wreckage with their bare hands and the simplest tools, the ministry said, adding that Syrians are also banned from essential medicines and medical equipment.
Quake-affected Syrians are also facing a severe shortage of fuel and gas to keep warm as the winter blizzard keeps battering the disaster zone and made things there even worse.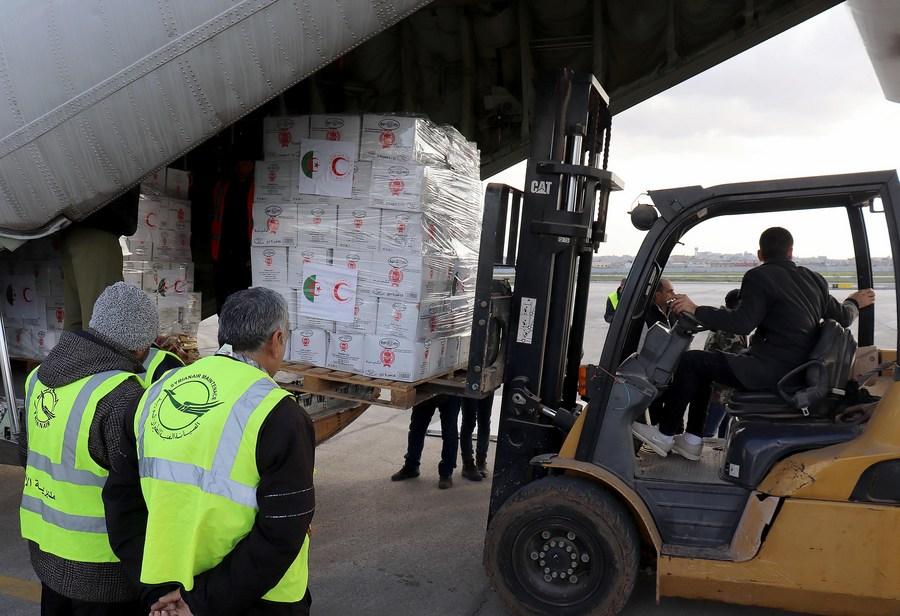 Humanitarian aid supplies from Algeria are unloaded at the international airport in Aleppo, northern Syria, on Feb. 7, 2023. [Photo/Xinhua]

Countries, including China, and the public are urging the United States to lift its sanctions and blockade on the Arab country to allow much-needed aid to reach the disaster zone as soon as possible.
In an interview with the semi-official Mehr news agency, Iranian Foreign Ministry spokesperson Nasser Kanaani called on countries to pressure the United States into lifting the sanctions on Syria and the siege of the country to enable the delivery of international aid.
"The people of northern Syria are really suffering. Sanctions are stifling international relief and medical supplies. Thousands of deaths in Syria are preventible; earthquake relief should pause sanctions," tweeted Khaled Beydoun, associate professor of law at U.S.-based Wayne State University.
"Western countries don't need to send anything. Just remove lethal sanctions on Syria," tweeted Sharmine Narwani, a commentator and analyst of Middle East geopolitics and former senior associate at St. Antony's College, Oxford University.
The Chinese Foreign Ministry on Wednesday demanded an immediate lifting of U.S. sanctions on Syria as the tremor-stricken country is facing a serious humanitarian crisis.
"Even today, U.S. troops still occupy Syria's principal oil fields, plunder more than 80 percent of the country's oil production, and have smuggled and burned Syria's grain stock, exacerbating the humanitarian crisis there," said Mao Ning, spokesperson for the Chinese Foreign Ministry.
"In the wake of the devastating earthquakes, the United States should let go of its geopolitical obsession, immediately lift unilateral sanctions on Syria and open the door for humanitarian aid," Mao added.