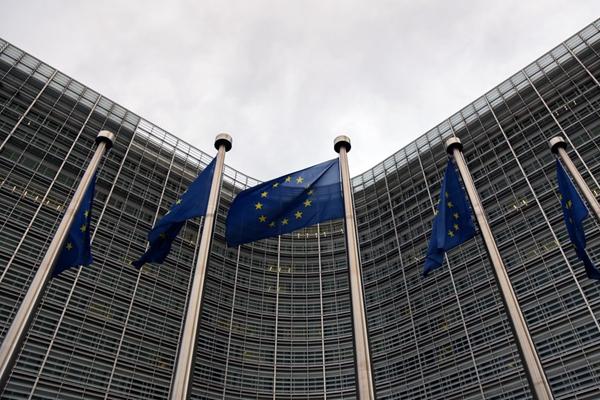 EU flags are seen outside the European Commission in Brussels, Belgium, Jan. 6, 2023. [Photo/Xinhua]
An extraordinary European Council summit convened in Brussels to discuss Ukraine, economic policy and migration wrapped up on Friday with unresolved differences among leaders over key issues.
Although there was some agreement on continued European support to Ukraine in its conflict with Russia, opinions diverged on immigration policy and on specifics related to Ukraine's candidacy for European Union (EU) membership.
During a visit by Ukraine President Volodymyr Zelensky to the two-day summit, he called for more economic and military aid for his country. Heads of state and government agreed to do whatever it takes to support Ukraine, but many of the details of what this will mean still need to be hammered out.
Leaders also failed to agree on a timetable for Ukraine's accession to the EU as Zelensky had hoped.
Moreover, even the terms on Ukraine that have been agreed have caused some divisions.
Italian Prime Minister Giorgia Meloni on Friday criticized France's President Emmanuel Macron for organizing a closed-door meeting that included Zelensky and German Chancellor Olaf Scholz, but excluded leaders of other EU member states.
Meloni said that the "inappropriate" discussions between the Ukrainian leader, and the leaders of the EU's two largest economies "threatened the unity" of the 27-nation bloc in confronting the crisis in Ukraine. "I think our strength in this fight is unity," Meloni said, after meeting privately with Zelensky on the sidelines of the summit.
Last year, Macron and Scholz worked closely with Mario Draghi, Meloni's predecessor.
Meanwhile, Bulgarian president Rumen Radev called for peace in Ukraine.
Speaking before Zelensky's arrival at the summit, Radev said that sending more military aid to the conflict was like "putting out fire with gasoline." He added that "one year after the start of" this conflict, it was now time to move the focus onto measures to stop it, and "diplomatic efforts in search of a peaceful solution."
Regarding migration, Meloni declared a victory as leaders agreed that they must take shared responsibility and share the cost of a widening migration crisis, a key issue for Italy.
"A new principle was established," Meloni said. "It now says, in black and white, a sentence that it had never been possible to write down before: 'immigration is an EU problem and needs an EU response.'"
Nevertheless, certain specifics still need clarifying in terms of a united EU response, and it is not clear when these will be addressed.
Elsewhere, France and Germany pushed for a united response in combating the effects of the economic subsidy package in the United States, dubbed the Inflation Reduction Act. The two countries said the plan gave U.S. companies an unfair advantage over European rivals. However, although the issue was discussed in depth at the summit, there was no conclusion on a response.
The European Council is made up of heads of state or government from the 27 EU member states.