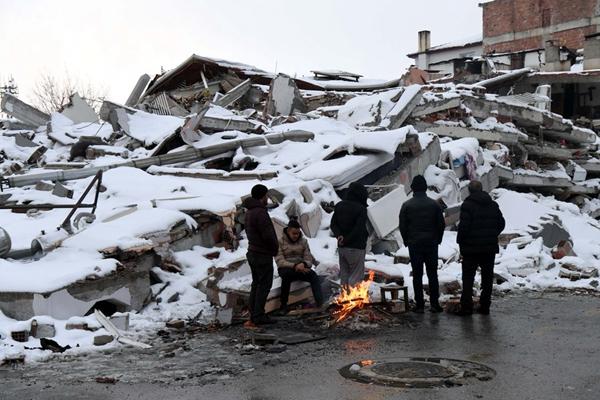 People warm themselves by the fire beside the rubble of buildings in Elbistan district of Kahramanmaras Province, Türkiye, Feb. 7, 2023. [Photo/Xinhua]
The death toll from Monday's devastating earthquakes climbed to 20,213 in Türkiye, while another 80,052 injuries were reported in the country, Turkish Health Minister Fahrettin Koca announced late Friday.
Türkiye's southern province of Hatay has the most casualties, with 6,205 people dead and 17,823 others injured, Koca noted.
"After the emergency response, 20,000 of our citizens rescued from the rubble were transferred to provinces outside the region by air, land ambulances, and sea vehicles," he told reporters in Hatay.
Digital photos of patients, whose identities are yet to be identified, have been uploaded to special software for matching, he said.
A magnitude 7.7 earthquake struck Türkiye's southern province of Kahramanmaras at 4:17 a.m. local time (0117 GMT) on Monday, followed by a magnitude 6.4 quake a few minutes later in the country's southern province of Gaziantep and a magnitude 7.6 earthquake at 1:24 p.m. local time in Kahramanmaras.