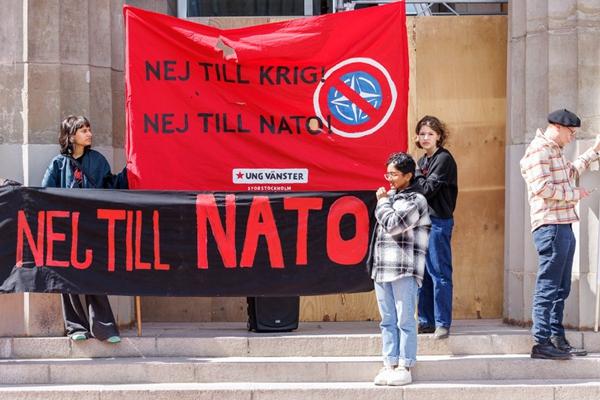 People protest against Sweden's decision to apply to join the North Atlantic Treaty Organization (NATO) in Stockholm, Sweden, May 16, 2022. [Photo/Xinhua]
The member states of the North Atlantic Treaty Organization (NATO) should commit to spending at least 2 percent of their gross domestic product (GDP) on defense by next year, the alliance's Secretary General Jens Stoltenberg said on Wednesday.
He was addressing journalists following a NATO defense ministers' meeting to address key issues for their security.
"More countries are now spending at least two percent of their GDP on defense. And 2022 was the eighth consecutive year of increased defense spending by European allies and Canada. With an additional investment of 350 billion U.S. dollars, this trend is expected to continue this year. But more needs to be done," he said.
NATO allies agreed in 2014 to move toward spending 2 percent of their GDP on defense by 2024.
He said the allies had agreed on the need to work hand-in-hand with the defense industry to ramp up industrial capacity because Ukraine, to which they were providing unprecedented support, was "consuming an enormous quantity of allied ammunition and depleting our stockpiles."
He said the ministers had also discussed the security of critical undersea infrastructure following the sabotage of the Nord Stream pipelines.
He announced the establishment of a Critical Undersea Infrastructure Coordination Cell within the NATO headquarters.
The U.S. Navy has been accused in press reports of involvement in last September's attacks on the Nord Stream gas pipelines in the Swedish and Danish exclusive economic zones under the Baltic Sea, which were built to transport natural gas from Russia to Germany.
U.S. investigative journalist Seymour Hersh alleged in recent days that U.S. Navy divers detonated explosives under the pipelines during the Baltic Operations 2022 NATO maritime exercise.