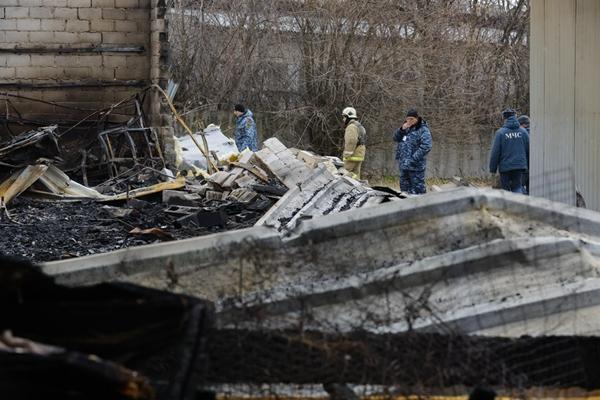 People inspect the aftermath of shelling of the city market in Donetsk, Dec. 12, 2022. [Photo/Xinhua]
Russia and Ukraine traded a fresh round of strikes as the world is set to mark the first anniversary of the armed conflict on Friday.

The crisis has caused many casualties, displaced numerous people, aggravated geopolitical confrontation in Europe, intensified global energy and food shortages, and undermined regional and international security.
While Russia and Ukraine appear to have reached a deadlock on the battlefield and at the negotiating table, the United States continues to agitate the conflict and profit from it.
Global impact
"Over the past year, from work to my personal life, from my well-being to what I do every day, everything has completely changed," said a volunteer worker at a children's hospital in Kiev, who gave her name as Olha.
"I lost my job ... I have outstanding loans ... My friends have died," the 34-year-old told Xinhua.
Since the conflict flared up on Feb. 24 last year, tens of thousands of troops on both sides have been killed, and millions of others were forced to flee their homes.
The echoes of the conflict are heard far beyond Ukraine's borders. Its heavy toll on the world has manifested through food supply chain disruptions, skyrocketing energy prices and soaring inflation.
Western countries have imposed sanctions on Russia in hopes of choking its energy export channels and destroying its economy. However, those sanctions have backfired, hurt U.S. allies and triggered a worldwide energy crisis.
Furthermore, Ukraine and Russia jointly produce around 30 percent of the world's wheat exports. Russia is also one of the world's biggest exporters of fertilizers. The impact of the conflict on food supply chains has contributed to rising food prices, making it harder for people in lower and middle-income economies to feed their families.
As the conflict disrupts trade and aggravates inflation for essential goods, several economies teeter on the brink of recession.
In a blog released in late January, IMF chief economist Pierre-Olivier Gourinchas reckoned the global economy is poised to slow this year, while growth will remain weak by historical standards as the fight against inflation and the Ukraine crisis weigh on activity.
The economic pain has been quite intense for emerging economies. The UN warned on Jan. 1 that the Russia-Ukraine conflict unleashed a new crisis, disrupting food and energy markets and exacerbating food insecurity and malnutrition in many developing countries.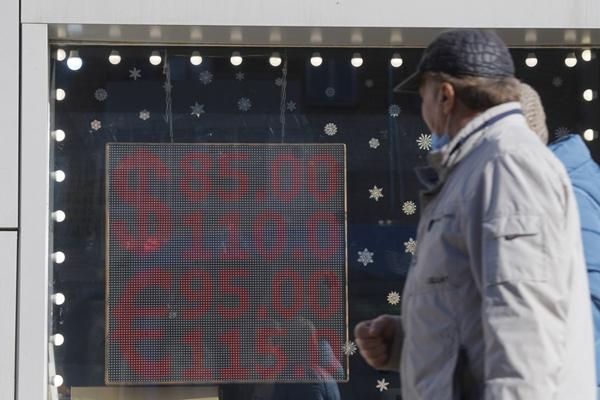 People walk past a screen of a currency exchange office displaying the exchange rates of U.S. Dollar and Euro to Russian Rubles in Moscow, Russia, March 1, 2022. [Photo/Xinhua]
During the Munich Security Conference concluded on Sunday, there was "palpable frustration among some leaders from African and South American nations" over the protracted conflict, which "was consuming the time, money and attention of the West at the expense of other pressing problems," the Financial Times observed.
"We don't want to go on discussing who will be the winner or the loser of a war," said Colombia's Vice President Francia Marquez. "We are all losers and, in the end, it is humankind that loses everything."
Backstage manipulator
The deep cause of the Russia-Ukraine conflict is the expansion of NATO, and "the Russians are reacting to the West's attempt to make Ukraine a western bulwark on Russia's border," John Mearsheimer, political science professor at the University of Chicago, told Xinhua.
Breaking a promise made at the end of the Cold War that NATO would not expand to the east, the U.S.-led bloc has expanded eastward five times since 1999, advancing more than 1,000 km to the Russian border. Its membership has increased from 16 to 30 countries.
Since the flare-up, the United States and its allies have sent more weapons to Ukraine, worsening the situation.
The United States has promised nearly 30 billion U.S. dollars in military assistance to Ukraine. After the United States and Germany pledged tanks to Ukraine in late January, the Pentagon announced a new tranche of military aid for Ukraine days later, including long-range precision rockets for the first time.
During his surprise trip to Kiev on Monday, U.S. President Joe Biden announced hundreds of millions of dollars in additional military aid for Ukraine, a move widely expected to escalate the crisis further.
Washington's latest move bears out what former U.S. senator Richard Black said last year -- "We don't care how many Ukrainians die. How many women, children, civilians, military will die. We do not care. It's like a great football game, and we want to win."
In his address to the Federal Assembly, Russian President Vladimir Putin said the West sparked a war in Europe to "eliminate competitors by using a proxy force," and the responsibility for inciting and escalating the Ukraine crisis lies entirely with the Western elites.
"They plan to grow a local conflict into a global confrontation ... But it is impossible to defeat Russia on the battlefield," he said.
Simultaneously, Washington's "football game" on the bloody battlefield in Ukraine brings fortunes to U.S. war and energy businesses.
Replacing the military equipment transferred to Ukraine by Washington's NATO allies could lead to roughly 21.7 billion dollars in foreign military sales or direct commercial sales for American industry, the U.S. Foundation for Defense of Democracies said in a report last month.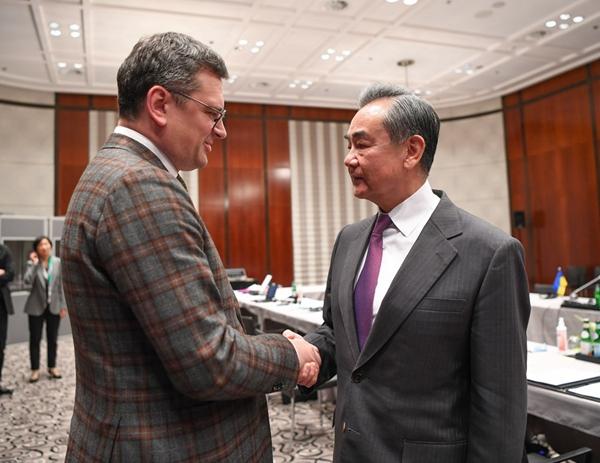 Wang Yi (R), a member of the Political Bureau of the Communist Party of China (CPC) Central Committee and director of the Office of the Foreign Affairs Commission of the CPC Central Committee, meets with Dmytro Kuleba, Ukrainian foreign minister, on the sidelines of the 59th Munich Security Conference in Munich, Germany on Feb. 18, 2023. [Photo/Xinhua]
As for the energy industry, "Big Oil just reported its profits. Record profits. Last year, they made 200 billion dollars in the midst of a global energy crisis," Biden admitted in his State of the Union Address on Feb. 7.
Political settlement
The prolonged crisis has created economic and social woes in both countries and significantly retarded the world's post-pandemic recovery.
Official data showed that Russia's GDP declined by 2.1 percent in 2022, and the Ukrainian economy nosedived by 30.4 percent. The World Bank estimated last year that the cost of reconstruction and recovery in Ukraine is at least 349 billion dollars.
However, the vast difference in positions between Russia and Ukraine seems unbridgeable for the time being, making possible dialogue difficult.
When meeting senior Chinese diplomat Wang Yi in Munich on Saturday, Ukrainian Foreign Minister Dmytro Kuleba said no other countries want to realize peace more than Ukraine.
For the sake of peace, Gulru Gezer, a foreign policy analyst and former diplomat for Türkiye, believes all responsible countries that do not want to prolong the crisis should help keep the channels of dialogue open rather than exacerbate tensions.
UN Secretary-General Antonio Guterres said the one-year mark is a "grim milestone" with an impact far beyond Ukraine. "While prospects may look bleak today, we know that genuine, lasting peace must be based on the UN Charter and international law," he said.
Among the countries standing on the side of peace and dialogue is China, which plans to publish a document on finding a political settlement to the crisis.
In The Global Security Initiative Concept Paper released on Tuesday, China pledges to promote a political settlement to international and regional hotspot issues, including in Ukraine.
Leaders of some countries have made clear their neutrality on the issue, criticizing the West for leveraging the Ukraine issue as "a loyalty test" and calling for a political settlement.
In Munich, when asked why Namibia abstained from a UN resolution on the Ukraine situation in October, Prime Minister Saara Kuugongelwa-Amadhila said her country focused on "resolving the problem, not on shifting blame."
"The bottom line is that money used to buy weapons would be better used to promote development in Ukraine, in Africa, in Asia, in the EU itself, where many people are facing hardships," Kuugongelwa-Amadhila said.