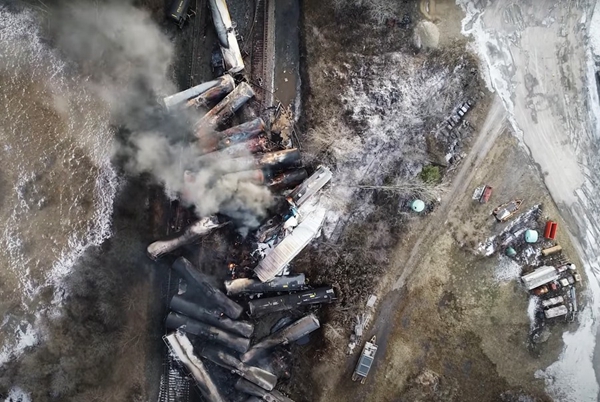 This video screenshot released by the U.S. National Transportation Safety Board (NTSB) shows the site of a derailed freight train in East Palestine, Ohio, the United States. [Photo/NTSB handout via Xinhua]
The environmental catastrophe unfolding in East Palestine of the U.S. state of Ohio begs the question, "could this happen in our town?" reported U.S. news portal The Sault News on Tuesday about the train derailment on Feb. 3 in this town that leaked hazardous chemicals to the locality.
Of the 38 cars that derailed, 11 were tank cars that dumped about 100,000 gallons of hazardous materials, including vinyl chloride, benzene residue and butyl acrylate, said the report.
According to the Ohio Department of Natural Resources, the derailment killed more than 43,000 fish, crustaceans, amphibians and other marine animals to date. Ohioans 10 miles from the derailment have reported pets and farm animals dying overnight.
"Michigan residents face two critical questions in light of the East Palestine crisis: 1. Will one of our towns be the next to make national headlines for an environmental disaster? 2. What say do Michigan residents have when the same corporations responsible for environmental catastrophes send toxic waste over the state border for disposal?" said the report carried by the Michigan-based media.
"The real solution here is to stop making toxic chemicals that cannot be transported or disposed of safely," said Christy McGillivray, legislative and political director of the Michigan Sierra Club.
"Regardless of appropriate notice and oversight, the end result is that shareholders profit while we are left choosing which community we are going to sacrifice to cancer-causing chemicals," she noted.