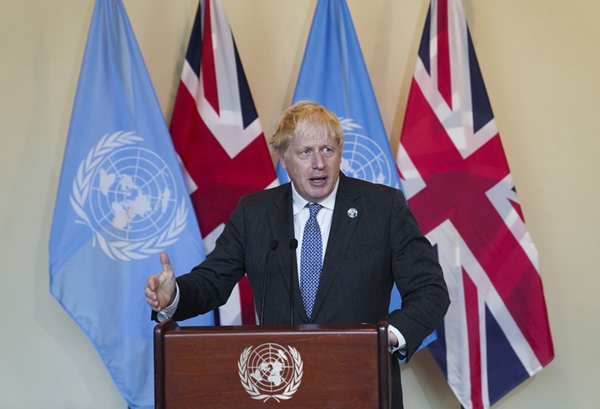 British Prime Minister Boris Johnson speaks to reporters after attending the Informal Leaders Roundtable on Climate Action at the UN headquarters in New York, on Sept. 20, 2021. [Photo/Xinhua]
Former British prime minister Boris Johnson on Wednesday apologized for misleading the Parliament in a scandal over parties held at Downing Street during the COVID-19 pandemic.
Johnson made the apology during an extended hearing of the cross-party Committee of Privileges in the House of Commons, the lower house of the British Parliament.
Johnson was forced to resign in July last year over a string of scandals, including "partygate."
When revelations of the parties at Downing Street in 2020 and 2021 first emerged in late 2021, Johnson initially said that no rules had been broken. He later apologized and said there had been "misjudgments," as he mistook those parties for work events.
Responding to a claim on Wednesday that it should have been obvious that such parties broke COVID-19 rules, Johnson said it "must have been equally obvious" to dozens of other senior officials, including the current UK Prime Minister Rishi Sunak.
In new evidence published by the parliamentary committee a few hours before the hearing, a government official said the then-PM had the opportunity to stop the partying but "allowed the culture to continue."
The committee will now consider Johnson's testimony along with other evidence, before publishing its verdict on the case by the summer. Johnson could be suspended from the House of Commons if the committee rules that he misled lawmakers deliberately.