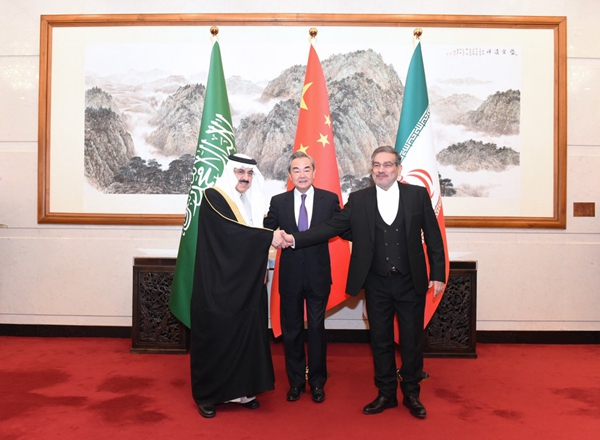 Wang Yi (C), a member of the Political Bureau of the Communist Party of China (CPC) Central Committee and director of the Office of the Foreign Affairs Commission of the CPC Central Committee, attends a closing meeting of the talks between the Saudi delegation led by Musaad bin Mohammed Al-Aiban (L), Saudi Arabia's Minister of State, Member of the Council of Ministers and National Security Advisor, and Iranian delegation led by Admiral Ali Shamkhani (R), Secretary of the Supreme National Security Council of Iran, in Beijing, capital of China, March 10, 2023. [Photo/Xinhua]
The United States should stop depicting China as a military threat to the West as China always seeks peaceful development, wrote a former president of the United Nations General Assembly (UNGA) recently.
China seeks prosperity and greatness through trade, investment and diplomacy, instead of "a desire for warlike conquest," wrote Mogens Lykketoft in a commentary piece in the Danish newspaper Berlingske on Tuesday.
China has no interest in starting a military conflict, wrote Lykketoft, who was also former Danish Minister of Finance and Foreign Affairs.
The Chinese government has gained solid popular support, as it "managed to pull 800 million out of poverty," he added.
However, led by the United States, the West's course towards China is now perceived as an attempt to boost China's progress in prosperity and surround the country with strong American-led alliance systems, he wrote.
A paranoid fear and demand to be "tough on China" has arisen in American politics following the COVID-smearing against China and trade war started by former U.S. President Donald Trump, wrote Lykketoft.
The dangerous hostility against China reached its peak with the recent "hysteria about and the shooting down of the Chinese hot air balloon," wrote Lykketoft.
The former Danish official called on the United States to recognize a new balance between the two countries, noting that China's recent foray into international diplomacy resulted in a successful mediation between Iran and Saudi Arabia this month.
"Peace and economic stability for the rest of the 21st century depend on whether the United States and China can rein in their rivalry and together lead the way in international cooperation," he said.