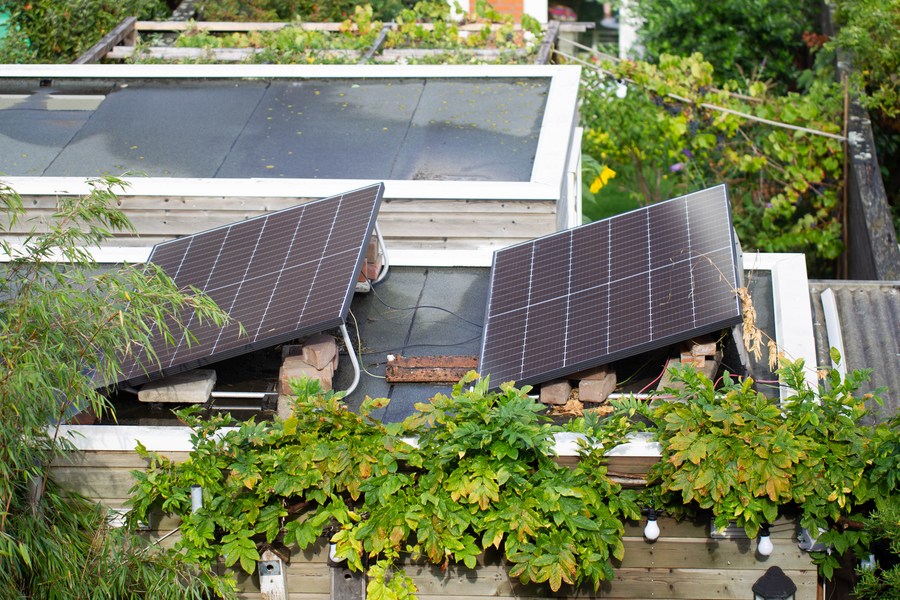 Solar panels are placed on the roofs of buildings in Haarlem, the Netherlands, Sept. 10, 2022. [Photo/Xinhua]
The share of renewable energy in the European Union's (EU) overall energy consumption should be raised from 32 percent to 42.5 percent by 2030, according to a provisional deal reached on Thursday by the negotiators of the Council of the EU and the European Parliament.
The agreement, which will still have to be endorsed by both EU institutions, also foresees an additional 2.5 percent indicative top up that would allow the share of renewables to reach 45 percent.
The negotiators provisionally agreed on more ambitious sector-specific targets in transport, industry, buildings, and district heating and cooling.
In the transport sector, the 2030 binding target would enable the EU member states to either reduce their greenhouse gas intensity by 14.5 percent through the use of renewables or to use at least 29 percent of renewables within the final consumption of energy.
By 2030, the renewable energy used in the transport sector will have to include at least 5.5 percent of advanced biofuels and renewable biofuels. At least 1 percent of this will have to be renewable fuels of non-biological origin (RFNBOs).
The EU industry will have to increase their use of renewable energy by 1.6 percent per year. At least 42 percent of the hydrogen they use should come from RFNBOs by 2030, and 60 percent by 2035.
The EU member states will be allowed to reduce their share of RFNBOs in industry use by 20 percent either if their national contribution to the binding overall EU target meets their expected contribution, or if the share of hydrogen from fossil fuels consumed remains under 23 percent in 2030 and 20 percent in 2035.
In the buildings sector, the agreement sets an indicative target of at least 49 percent renewable energy share by 2030. For heating and cooling, a gradual yearly 0.8 percent increase in renewable energy use is foreseen in each EU member state until 2026. This target will be raised to 1.1 percent for the period between 2026 and 2030.
The bloc's current renewable energies directive has been in force since 2018. It set a target of 32 percent share of renewable energy in the EU's total energy consumption by 2030. Raising the target to 42.5 percent should help the Union meet its goal of reducing net greenhouse gas emissions by at least 55 percent by 2030 compared to 1990 levels, ultimately reaching zero emission by 2050.