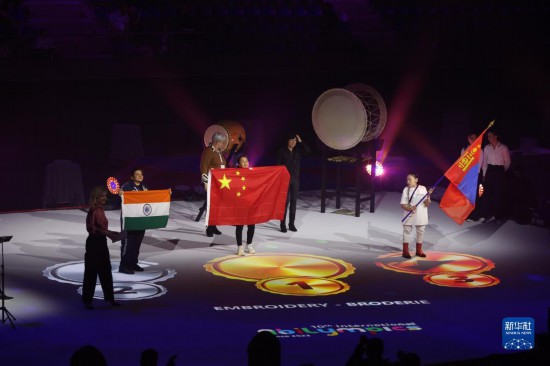 The award ceremony of the embroidery contest during the 10th International Abilympics in Metz, France, on March 25, 2023. [Xinhua]
The 10th International Abilympics, one of the world's largest competitions for people with disabilities, was held in Metz, France, on March 24 and 25, 2023.
The competition showcased 400 contestants from around the world competing in contests across 10 categories, with inclusion as a top priority.
Following the success of its last edition in 2016, the Abilympics France seized the opportunity to showcase the abilities of contestants with disabilities from around the world at the Eurométropole de Metz exhibition center.
The event brought together nearly 1,500 contestants, judges and experts.
Approximately 50,000 visitors supported contestants' high-level performances across various business areas, such as industry, construction, food, health, services, information, new technologies, media, crafts, leisure, and the creative arts.
The event also offered many activities that allowed the public to participate. The rich conference program and the opening and closing ceremonies made the 10th International Abilympics a festive event for all.
The name "Abilympics" comes from a combination of "abilities" and "Olympics," and is highly regarded as the Paralympic Games of skills competitions.