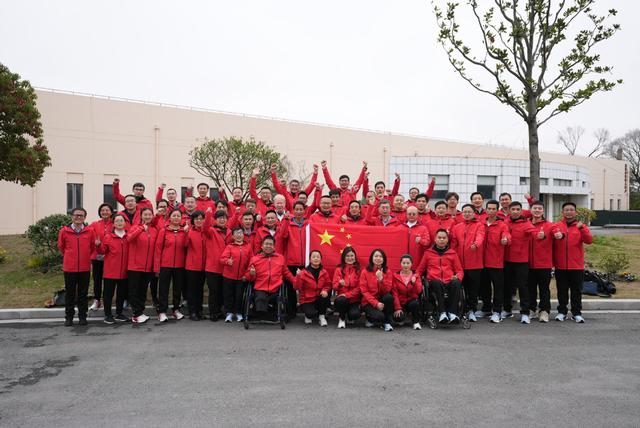 The Chinese leave Shanghai on March 21, 2023, for the 10th International Abilympics, held in Metz, France. [Photo courtesy of the China Disabled Persons' Federation]
The 10th International Abilympics, one of the world's largest competitions featuring people with disabilities, wrapped up in Metz, France, on March 25, 2023. The Chinese team won 20 medals during the competition, including six gold, seven silver and seven bronze.

Zhang Haidi, president of Rehabilitation International (RI) and chairperson of the China Disabled Persons' Federation (CDPF), encouraged the Chinese team before they set out from Shanghai on March 21, 2023.
Zhang expressed her hope that contestants would cherish this opportunity to display their own excellent professions and positive and life-affirming selves, learn from and inspire one another, promote friendship and make a triumphant return.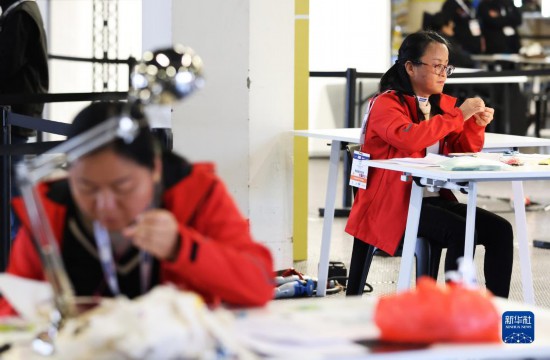 Bu Yunxiu (R) participates in the embroidery contest during the 10th International Abilympics in Metz, France, on March 25, 2023, and wins the gold prize. [Xinhua]
Twenty-nine contestants from China participated in 20 skills contests across nine categories and won gold prizes in food carving, text processing, hairdressing, massage, crochet, and embroidery.

The competition aims to showcase professional talent among people with disabilities, with inclusion as a key priority. Over 400 talents from around world competed in skills contests across 10 categories.
China has deployed observers to the Abilympics since the competition's founding in 1981 and is one of the largest teams during the event.